Reid Says His Fall Won't Keep Him From Seeking Re-election
The Senate Democratic leader is recovering "but not going to win any walking contests."
By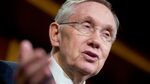 Senator Harry Reid, a former boxer, said Friday that his recent fall won't keep him down. 
In his first interview since falling on New Year's Day, the Senate minority leader from Nevada was asked if the accident has caused him to reconsider plans to seek re-election in 2016.  "No, not really—no, no," Reid told  Nevada's KNPR radio station.
Reid suffered three broken ribs, a concussion, and broken facial bones near his right eye socket in the accident. His injuries were so severe that his doctors advised him against attending Tuesday's first day of the new Congress. 
On Friday, he said his physical fitness before the accident was far better than that of most people his age–75–and that he's on his way to healing and committed to a full recovery.  "No one has a question about my physical ability," Reid said. "I've always had the ability to fight back, and I'm going to fight back."
Reid said he walked Friday for 25 minutes, "but I'm not going to win any walking contests."