Millions Rally in France to Mark Terrorist Attacks
Alex Webb and Helene Fouquet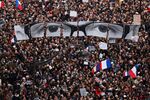 The largest crowd in French history -- more than 3.7 million strong -- turned out Sunday for rallies across the country, joined in Paris by world leaders including Benjamin Netanyahu and Mahmoud Abbas, to mark nation's worst terror attack in more than half a century.
"Paris is the capital of the world today," President Francois Hollande told ministers before receiving dignitaries from around the world at the Elysee Palace.
Rallies across France with signs saying "Je suis Charlie," or "I am Charlie," came after three distinct yet connected terror attacks in the city, including in the offices of Charlie Hebdo magazine and a kosher grocery, claimed 17 victims this week. Three attackers were killed, with Prime Minister Manuel Valls saying France was at "war against terrorists, Jihadists, Islamic fundamentalism."
"I really felt it was important to come," said Naima Zouali, a 60-year-old Moroccan living in London, who marched with a placard saying "Je suis Marocaine, Je suis Charlie." "For me, these people, it's not Islam."
A fourth suspect linked to the assaults had fled France days before the murderous spree, police said. The disclosure that Hayat Boumeddiene, believed to be the wife of Amedy Coulibaly -- killed after taking hostages in the grocery on Jan. 9 -- was in Syria when police were hunting her may deepen questions over possible intelligence failures. Valls noted "clear flaws" in security and intelligence services.
Police Deployed
Thousands of police and soldiers were deployed for the march, which featured 56 world leaders. Among them were Prime Minister David Cameron of the U.K., German Chancellor Angela Merkel, King Abdullah of Jordan, Palestinian President Abbas and Israel's Netanyahu, along with leaders of Spain, Italy, the European Union, Turkey and Tunisia. The U.S. was represented by the Ambassador to France, Jane Hartley.
The march started at Place de la Republique and finished at the Place de la Nation -- less than a mile from the kosher grocery where four hostages perished.
France deployed 4,300 police, including 150 in plain clothes to protect the leaders, as well as 1,350 soldiers across Paris for the demonstration.
Sharpshooters were positioned along the roofs lining the march. The public-transport network, while free, was under particularly close observation, as were embassies, public buildings and media offices.
Global Cause
The European Union plans to tighten borders and improve the exchange of intelligence within the bloc to combat the threat of Islamist terrorism, Interior Minister Bernard Cazeneuve said after EU interior ministers meeting in Paris today.
They agreed to do more to address the flow of so-called foreign fighters between Europe and Syria and Iraq, including through sharing intelligence to better identify them at the 28-nation EU's borders.
Briefing reporters after the gathering that included representatives of the U.S. and Canadian government, he said the EU also needed better exchange of information on air passengers within Europe, tighter controls on weapons trafficking and called for more help from Internet companies to counter terrorist propaganda.
"We are determined to fight against terrorism together," Cazeneuve said.
Massive Rally
An estimated 700,000 people demonstrated across France yesterday, including Toulouse, Lyon, Rennes, Nice and Marseille.
"We will come out of this stronger," Hollande said in a televised address on Jan. 9. "We are a free people that won't give in to pressure, that isn't afraid."
Twelve people were killed in the Jan. 7 assault on satirical magazine Charlie Hebdo. On the following day, a policewoman in Montrouge was shot dead. Then on Jan. 9, four hostages were slain at the kosher grocery.
The attacks provided a vivid illustration of the risks of acts carried out by home-grown terrorists -- all three slain suspects this week were born in France -- who have ties to militant groups in the Middle East and Africa. At least one of the two brothers suspected of carrying out the Charlie Hebdo attack, Cherif and Said Kouachi, may have trained with Islamist groups in Yemen, police said.
Al-Qaeda Links
Cherif Kouachi told BFM television that they'd carried out their attacks on behalf of al-Qaeda in Yemen. The brothers were French citizens of Algerian descent.
Coulibaly had known Cherif Kouachi since at least 2010, police said. They joined a plot to help a prison escape and spent time together in jail. Coulibaly told BFM television, which contacted him in the grocery, that he had coordinated his attacks with the Kouachi brothers.
Meanwhile, French politicians stressed national unity. French Muslim leaders unanimously and harshly condemned the killers and asked Muslims to turn out "massively" for the rallies today.
For many who marched in Paris today, the killings of the top artists at the satirical magazine Charlie Hebdo, known for its unapologetically irreverent cartoons, marked the end of an era.
"I grew up with Charlie Hebdo, dating back to May 68 when it was still Hara Kiri," Françoise Benard, 69. "They really had no sacred cows. The really sad thing is that a lot of them were the last of that May 68 generation. We may not see the likes of them again."