Obama Proposes Free Community College
Jonathan Allen, John Lauerman and Janet Lorin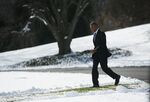 President Barack Obama is proposing to provide a free community college education as an entitlement to millions of students at a cost of $60 billion over 10 years.
Obama unveiled the plan today at a community college in Tennessee, a state that provides free tuition for community and technical colleges for high school graduates and served as the inspiration for the administration.
The plan, which requires approval from the Republican-controlled U.S. Congress, would provide about three-quarters of the average cost of community college tuition, with states kicking in the rest, according to a White House fact sheet.
"For millions of Americans, community colleges are essential pathways to the middle class," Obama said at Pellissippi State Community College in Knoxville. "I want to make it free."
The details about the $60 billion proposal will be part of the fiscal 2016 budget that Obama is scheduled to submit to Congress on Feb. 2, Eric Schultz, deputy White House press secretary, told reporters traveling with the president.
Obama will be asking Congress to write language authorizing the tuition waiver as an entitlement for anyone eligible, rather than making it subject to a fixed annual appropriation, according to an administration official, who asked for anonymity because the details haven't been released yet.
Congressional Hurdles
The price tag means the program will have a hard time getting traction in the Republican-controlled Congress, said David Baime, a lobbyist for the American Association of Community Colleges in Washington. Obama's previous request for funding universal preschool was ignored by lawmakers.
"It's going to be a challenge to get this enacted," Baime said. "We're already poised to fight against potential budget cuts for popular programs such as student aid."
Schultz said there is bipartisan interest in the initiative, citing the presence of Tennessee Senators Bob Corker and Lamar Alexander, and Representative John Duncan, all Republicans, on Air Force One for the trip. Tennessee's Republican governor, Bill Haslam, who launched the state's free tuition program, also was at today's event.
Corker, though, said in an interview that he doesn't support adding a new federal program such as Obama is proposing. He praised the Tennessee version and said it's better when "states mimic each other."
Economic Themes
Making higher education more affordable is one of the main economic themes Obama plans to carry into his final two years in office, and today's speech in Knoxville is the third this week intended to preview his Jan. 20 State of the Union address.
Forty percent of students in college attend a two-year institution, according to the fact sheet, and as many as 9 million students could benefit from the program.
Students must attend at least half time, maintain a grade point average of 2.5 and make regular progress toward completing a degree.
Under the White House plan, community colleges would have to offer programs that would give students half the credits necessary for a four-year degree, or provide training programs with high graduation rates that are in demand by employers.
It requires spending by states as well. The federal government would cover three-quarters of the average tuition cost, with states providing the rest.
Cost as Barrier
The price of community college is low, so it's unclear how much cost is the major barrier. Tuition and fees at community colleges averaged $3,347 in the 2014-2015 school year, according to the New York-based College Board. That's compared with $9,139 at public four-year universities and $31,231 at private colleges.
Federal Pell Grants for low-income students can cover much or all of that cost already. The administration proposal would help some 63 percent of those students who don't qualify for a Pell grant, said David Bergeron, a former Education Department acting assistant secretary for higher education.
"Eliminating this barrier will ensure that more students go to college," said Bergeron, now a vice president at the Center for American Progress, a Washington-based policy research group. "This sends a very simple message to everyone who graduates from high school. They can go to college for free."
Funding Limits
Yet some state systems have shown their limitations and signs of strain under budget cuts, which could make it difficult for the schools to handle an influx of students.
A 2013 report from California estimated that 600,000 students were turned away from community colleges over the previous four years because of lack of funding.
Many students don't complete programs, which has raised questions about their effectiveness and students' preparation in high school.
To complete their studies and benefit from attending, students need additional support, such as advising on courses and job prospects, said Thomas Bailey, director of the New York-based Community College Research Center at Teachers College of Columbia University.
"Lowering tuition increases enrollments, and that's a good thing," Bailey said. "But cost isn't the only barrier to finishing."
College Competition
Obama has long been enamored of community colleges, calling them the "unsung heroes of America's education system" at a 2010 conference.
That has rankled for-profit colleges, such as Apollo Education Group, owner of the University of Phoenix chain, which also educate many low-income students. The plan could hurt the industry because many colleges focus on students seeking associate or certificate degrees, according to Jeffrey Silber, an analyst with BMO Capital Markets in New York. A Bloomberg index of 13 education companies was down 1.7 percent in the early afternoon.
Obama also plans to announce that Knoxville will be home to a new manufacturing innovation hub that involves the Department of Energy and 122 companies. The project is to develop advanced composites for manufacturing with $70 million in federal funds and $180 million in other money.