Keystone: The State of Play
Now the president can announce his decision, or sit back and let Congress force his hand.
By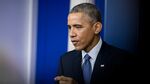 President Barack Obama once had many reasons for delaying a decision on whether to approve the Keystone XL pipeline. There was the environmentalists' uproar and the State Department's review. (And Obama's own 2012 re-election. And the 2014 midterm elections.) Then one final hurdle–a pending court ruling related to the pipeline's proposed path through Nebraska.
That obstacle is now cleared, as Nebraska's high court on Friday kicked the decision back to the Obama administration.  But don't expect anything soon from the White House.
In a statement, White House spokesman Eric Schultz said that the State Department was reviewing the court decision and that the president was prepared to wait for that evaluation, and that Republican-sponsored legislation to force the issue remains a non-starter. "The House bill still conflicts with longstanding Executive branch procedures regarding the authority of the president and prevents the thorough consideration of complex issues that could bear on U.S. national interests, and if presented to the president, he will veto the bill," Schultz said.
Congressional Republicans vowed to press on. "President Obama is out of excuses for deciding on whether or not to allow thousands of Americans to get back to work, " Senate Majority Leader Mitch McConnell, a Kentucky Republican, said in a statement. Speaker John Boehner issued a statement of his own: "Finally, it's time to start building."
Here's the state of play:
The president
For weeks, Obama has hinted through increasingly negative rhetoric that in his mind the economic and diplomatic benefits of approving this project that benefits U.S. neighbor and trading partner Canada don't outweigh environmental concerns about the project. At the same time, the economic case for the project, and environmental hand-wringing, may already have peaked.
Congress
Congressional Republicans (and a handful of Democrats) are moving to force Obama's hand through votes for congressional authorization of the pipeline. The House is expected to vote Friday; the Senate may begin debate as soon as Monday. Obama has threatened to veto such legislation. Senate Democrats may make  make Keystone their first filibuster attempt of the new Republican-led Congress; House Democratic Leader Nancy Pelosi of California has said House Democrats would hold together enough opposition to sustain an Obama veto.
What's next
Congress is ready to vote, setting up a veto showdown. McConnell said in his statement Friday that "if today's ruling is still not enough to move the president to approve the project, Congress will force that decision—and soon."
The long view
Keystone politics may shape some 2016 races, including the one to replace California Democrat Senator Barbara Boxer, a veteran of the environmental movement who said Thursday she won't run for re-election. Tom Steyer, a billionaire and former hedge fund manager who has driven much of the opposition to the pipeline project, is considering getting into that race, Politico reported, and Steyer's Keystone work has enhanced his standing with liberals and environmental activists.
-Andrew Harris, Laura Litvan, and Kathleen Hunter contributed to this report