Keystone: The State of Play
Now the president can announce his decision, or sit back and let Congress force his hand.
By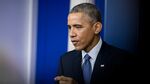 President Barack Obama once had many reasons for delaying a decision on whether to approve the Keystone XL pipeline. There was the environmentalists' uproar and the State Department's review. (And Obama's own 2012 re-election. And the 2014 midterm elections.) Then one final hurdle–a pending court ruling related to the pipeline's proposed path through Nebraska.