House Plan May Address Immigrants Brought to U.S. as Children
Heidi Przybyla and Erik Wasson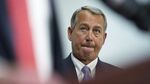 House Republicans are broadening their move to block President Barack Obama's immigration orders to also remove protection for immigrants brought to the U.S. illegally as children, a nod to Tea Party-aligned lawmakers that has little chance of success.
House Speaker John Boehner, an Ohio Republican, is planning a vote next week to reverse orders shielding some 5 million people included in Obama's November orders. The proposal also covers a 2012 directive addressing young undocumented immigrants and a series of 2011 memos that gave priority to terrorists and criminals for deportation.
"It is the fulfillment of a promise made by Speaker Boehner," said Representative Kevin Cramer, a North Dakota Republican. 'We are fulfilling that promise to our base.''
House Republicans have said they wanted to settle on a strategy today. The more sweeping attack on Obama's immigration policies is the product of a pledge by Boehner to use his expanded majority to unravel the president's actions. Though the Senate is now in Republican hands, there is little chance it will adopt the House approach.
Majority Leader Mitch McConnell of Kentucky would need at least six Democrats to go along with the measure. That's unlikely since he will need conservative Democrats like Heidi Heitkamp of North Dakota, who recently affirmed that she favors a broad immigration bill that would allow many undocumented immigrants to stay.
Party Rebellion
Boehner's re-election as speaker last week was overshadowed by a rebellion by conservatives who argued that he has routinely sacrificed Republican principles on immigration, the budget and other matters in order to compromise with Democrats.
"People didn't believe he was going to do exactly what he's doing now," said Representative Tom Cole of Oklahoma, a Boehner ally. "He can't control the Senate and he can't control the president," who would veto any legislation targeting his orders, Cole said. Yet "this tells you how conservative John Boehner is and how he wants to lead."
The move is also an attempt to shore up support within the conference to proceed to a broader overhaul of U.S. immigration laws, said Cole. Even if the proposal fails in the Senate, conservative critics should be satisfied by Boehner's efforts.
"People know when you fought the good fight," he said. "It's our opening position in the negotiation."
Agency Funding
House Appropriations Chairman Hal Rogers said yesterday that Republicans will seek to undercut Obama's decision to ease deportations by putting Congress in charge of funding the agency that oversees immigration applications. The idea is to deny the administration the funds it needs to carry out its orders.
House lawmakers will vote on amendments including language drafted by Representative Mick Mulvaney of South Carolina saying that money provided in the bill or fees collected by the agency can't be used to grant work authorizations to undocumented immigrants or bestow other benefits.
While many Republicans said the expanded approach also targeting undocumented children has broad support, other party lawmakers were critical.
"I'm not happy," said Representative Jeff Denham of California. "We've got to deal with immigration as a whole," he said. "Just picking on the children who came here through no fault of their own, I think is the wrong way to start."