Hong Kong Home Prices Surging to Record Deepens Leung's Dilemma
Michelle Yun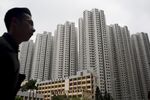 Hong Kong home prices surged to a record last year, making Chief Executive Leung Chun-ying's task of addressing the city's affordability crisis even harder.
The price index compiled by the government advanced 12 percent for the first 11 months of 2014 to a record in November, led by smaller-sized units. Existing home prices tracked by Centaline Property Agency Ltd., the city's largest realtor, gained 11 percent last year and reached an all-time high last month.
Leung, who is due to give his policy address on Jan. 14, is facing unprecedented pressure after pro-democracy protests last year also highlighted growing discontent among young people and first-time homebuyers over housing affordability. Rising home prices in the city last year contrast with those in Singapore and London, which have cooled as governments there imposed various curbs including tightening of mortgages.
"It's ultimately an issue of supply and demand," said David Ji, head of greater China research at property consultancy Knight Frank LLP. "The government is looking for land to build more housing, but everyone knows that's years down the road."
The government raised its housing supply target last month to 480,000 units over the next 10 years, from an earlier goal of 470,000 units, with 60 percent of those being public homes. Leung will face difficulty in finding enough land to meet the goal, said Chau Kwong-wing, chair professor of real estate at the University of Hong Kong.
"The government hasn't been able to add any large scale sites to its reserve," he said. "People are starting to get impatient and not believing the target can be met. You can say they're surrendering when they decide to buy a home now."
Doubling Taxes
Curbs brought in to quell demand have had little effect on prices, though the increased transaction costs led to a drop in the number of homes changing hands. Prices rose 5.4 percent in 2013 even as the government doubled taxes on all properties. That followed a 27 percent surge in 2012 despite the introduction in that year of a levy on foreigners purchasing residential property, intended to deter an influx of buyers from mainland China.
Prices for smaller units may rise as much as 5 percent in 2015 due to strong demand from those wanting to live in them, while prices for luxury homes could fall as much as 5 percent as overseas buyers are still deterred by the additional tax, according to Ji at Knight Frank.
Deteriorating affordability means homebuyers will have to compromise with smaller units, according to Citigroup Inc.
Home prices are still "far from peaking," Citigroup analysts Ken Yeung and Oscar Choi said in a report this week.
Interest rates, which track those in the U.S. because of the local dollar's peg to its U.S. counterpart, are expected to start rising as the U.S. economy recovers, though they could be offset by inflation and salary growth in the city, they said.
BNP Paribas SA echoes the view that home prices will continue to rise this year, albeit at a slower pace. The government shouldn't introduce more real estate market curbs, Wee Liat Lee, the bank's head of Asia property research, told reporters yesterday.
"The government should look ahead," he said. "If the global tightening cycle of interest rates has arrived, further tightening could be very negative."
Before it's here, it's on the Bloomberg Terminal.
LEARN MORE