GOP Rebels Declare (a Kind of) Victory with Immigration Bill
They failed to overthrow John Boehner, but they think they won.
By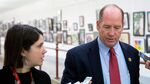 The first week of the 114th Congress began with a pitched, predictable battle between the Republican leadership of the House and two dozen rebellious conservatives. It will end with Republicans revealing a series of immigration amendments to the must-pass bill to fund the Department of Homeland Security. That, for the time being, has satisfied the people who were at war with their own party, and pitted them against the Democrats.