Cheung Kong to Buy Out Hutchison in $24 Billion Restructuring
Michelle Yun and Vinicy Chan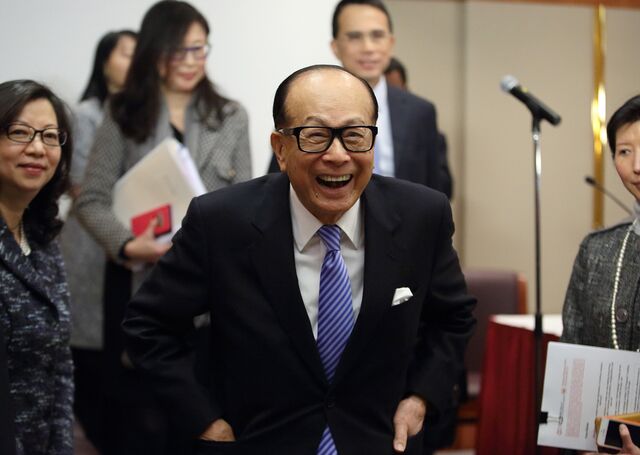 Cheung Kong Holdings Ltd. offered $24 billion in stock to buy out unit Hutchison Whampoa Ltd. and will spin off its property assets in the biggest reorganization of Hong Kong billionaire Li Ka-shing's corporate empire.
Cheung Kong investors will swap their shares in the Hong Kong developer for stakes in a new holding company called CK Hutchison Holdings Ltd., the company said in a Jan. 9 exchange filing. CK Hutchison will then issue new shares to buy out minority owners of Hutchison Whampoa, a conglomerate which controls ports, retail and telecommunications operations.
The reshuffle will end Hutchison Whampoa's 37-year history as a separate listed company, which Li kept after he became the first Chinese to control a British colonial trading company in 1979. The deal will simplify Li's empire that has grown to stretch beyond Hong Kong, allowing investors to more easily choose between a local property business and growing global assets in more than 50 countries.
The streamlined business also paves the way for Li to hand the company to his elder son, Victor, currently Cheung Kong's deputy chairman.
"As a person reaching a certain age, you want the company's successor and all the executives here to more easily operate and to do well, so it's not a surprise," Li, 86, said at a press conference after the announcement. "I want the company to do well not only today but also in the future. That's my responsibility."
Deal Value
CK Hutchison will offer Hutchison Whampoa shareholders 0.684 CK Hutchison share for every Hutchison share, according to the statement. Based on the Jan. 9 close in Hong Kong, Cheung Kong is offering the equivalent of HK$85.36 for each Hutchison Whampoa share, or a 2.3 percent discount, data compiled by Bloomberg show.
In U.S. over-the-counter trading, Cheung Kong's American depositary receipts gained 9.7 percent to $17.90 at 2:34 p.m. in New York, after the company announced the reorganization. Hutchison ADRs gained 9.3 percent to $24.61.
After the reorganization, all of Li's non-property assets, including stakes in Cheung Kong Infrastructure Holdings Ltd. and the recently acquired aircraft leasing business, will go into CK Hutchison. Real estate assets that are currently spread across Hutchison Whampoa and Cheung Kong's portfolios, mostly located in Hong Kong and China, will be consolidated into Cheung Kong Property Holdings Ltd.
Hutchison Whampoa expects the reorganization to be completed by the end of June, Managing Director Canning Fok said at a separate press briefing.
Li and his family trusts currently owns 43 percent of Cheung Kong, which controls 50 percent of Hutchison Whampoa. Following the reorganization, they will have a 30 percent stake in each of the new companies.
"It is a good move for investors as it helps to unlock the embedded value of both companies," Steven Leung, director of institutional sales at UOB Kay Hian Ltd., said by phone. "CK-Hutch, the new company, will offer a greater growth potential whereas the property spinoff would provide steady investment."
Property Assets
After the deal, CK Hutchison will spin off Cheung Kong Property and list it separately on the Hong Kong stock exchange, according to the filing.
"Property is something about which investors are very cautious right now," said Lee Wee Liat, a Hong Kong-based analyst at BNP Paribas SA. "They are spinning it off because they want to take out the lesser-valued assets."
China's residential real estate market has been slowing, while transactions in Hong Kong have stalled as the government imposed several rounds of curbs since 2010.
Dividend Payout
The reorganization is good for both companies and reflects their real value, Li said. He will be chairman of both companies, according to the statement.
He has a net worth of $28.2 billion, according to Bloomberg Billionaires Index.
Li said he hopes to increase the dividend payout this year.
The octogenarian tycoon has been accelerating overseas acquisitions while slowing investments at home. Last year, Li's group of companies snapped up Australian gas distributor Envestra Ltd. and entered the plane-leasing market with purchase of 45 planes for $1.9 billion.
Shares of Cheung Kong fell 0.6 percent to HK$124.80 at the close of trading in Hong Kong on Jan. 9, while Hutchison Whampoa gained 0.9 percent to HK$87.40. The benchmark Hang Seng Index rose 0.4 percent.
HSBC Holdings Plc advised Cheung Kong, according to the filing.
Before it's here, it's on the Bloomberg Terminal.
LEARN MORE