Brevan Howard's Assets Said to Shrink by $9 Billion in 3 Months
Will Wainewright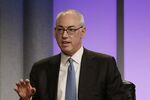 Brevan Howard Asset Management shed a quarter of its assets in three months after the hedge-fund firm posted its first losing year and an affiliated manager took control of two investment pools, according to a person with knowledge of the matter.
Brevan, one of Europe's biggest hedge-fund firms, now manages $27 billion, the person said, requesting anonymity because the fund's returns are private. The Jersey, Channel Islands-based firm managed $36 billion at the end of September, people with knowledge of the situation said at the time.
This week, $5 billion in client assets at two funds moved from Brevan to DW Partners, a New York-based firm that focuses on credit strategies, a transition that was announced in October. A spokesman for Brevan declined to comment.
Brevan and one of its nearest European rivals, BlueCrest Capital Management, have seen their macro funds under-perform other funds running a similar strategy. Global macro hedge funds returned 6.4 percent on average last year, according to data from Chicago-based Hedge Fund Research.
The weaker returns from those funds also contrast with strong performance by managed futures or quant hedge funds, which use computer models to form trades. Seven of the top performing 25 funds in the first 10 months of 2014 ran quantitative strategies, according to Bloomberg Markets magazine.
First Loss
Last year's loss was Brevan's first since the firm was co-founded more than a decade ago by billionaire Alan Howard. Losses have also forced Brevan to close funds focused on emerging markets and commodities in recent months.
The Brevan Howard Master Fund, which bets on macro-economic trends and accounts for most of the firm's assets, fell 0.8 percent for 2014 after slipping 0.15 percent in December, a person with knowledge of the performance said this week.
DW, which had run the two credit funds on Brevan's behalf, is run by David Warren, a former head of structured credit at Morgan Stanley. Warren said in a Jan. 5 statement that his firm was grateful for Howard's support and that the firms' relationship will continue.
The Financial Times reported last year that the London Pension Fund Authority had asked to withdraw its investment in Brevan's hedge funds. Swiss Re AG is looking to sell its 15 percent stake in the firm, a person with knowledge of the matter said this week.
Man Group Plc, the world's largest publicly traded hedge fund manager with $72.3 billion in assets, posted a 34 percent gain in its AHL Diversified managed futures fund, according to a person familiar with the situation, who requested anonymity because the information is private. The $4.4 billion fund fell 3 percent in 2013, according to an investment report.
BlueCrest, billionaire Michael Platt's hedge-fund firm, posted a 0.15 percent gain last year in its flagship macro fund, according to a person familiar with the return, who asked not to be named because the numbers are private. Jersey-based BlueCrest manages about $15 billion after Systematica Investments, a $8.5 billion trading unit led by Leda Braga, split away earlier this month, the person said.
Before it's here, it's on the Bloomberg Terminal.
LEARN MORE