Yingluck Faces Thai Junta Legislature Over Rice Losses
Chris Blake and Supunnabul Suwannakij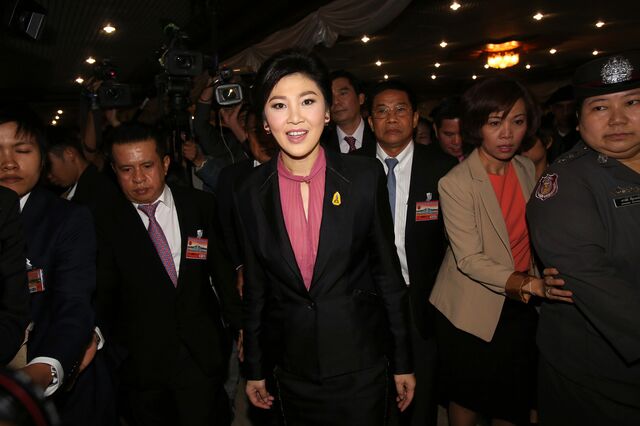 Thailand's former Prime Minister Yingluck Shinawatra defended herself against impeachment charges today, telling the junta-appointed legislature that allegations of negligence over a money-losing rice program were politically motivated.
Yingluck, who was removed from office on abuse of power charges weeks before a military coup last May, said her government's policy of buying rice from farmers at above-market prices was a subsidy to boost rural incomes. Anti-corruption officials told the military-dominated National Legislative Assembly that Yingluck was negligent for not stemming losses and corruption.
"I assure you that I governed the country as prime minister and defense minister with honesty, complying with the constitution and rule of law and having good governance and transparency," said Yingluck, who faces a five-year ban from politics if impeached. "I hope that the NLA will consider the case fairly without bias and not become political tools."
No matter how the legislature votes in a decision expected later this month at the earliest, the results will probably anger at least one side of Thailand's politically divided populace and threaten junta leader Prayuth Chan-Ocha's self-proclaimed efforts to unite the nation after last year's upheaval.
'Battle Cry'
"The impeachment of Yingluck could easily become the battle cry of Red Shirt resurgence," said Paul Chambers, director of research at the Institute of Southeast Asian Affairs in Chiang Mai, referring to the political movement centered on Yingluck and her brother Thaksin Shinawatra, the former prime minister ousted in a 2006 coup.
Not impeaching her "would set off an avalanche of opposition to the military from the middle and upper classes, which would ironically bring greater opposition to the persistence of military tyranny in favor of a return to Thai democracy," Chambers said. An impeachment needs three fifths of the 250-member legislature to vote in favor.
The rice program was one of the main election policies for Yingluck's Pheu Thai party when it ran for office in 2011, and Yingluck led a committee that oversaw the initiative. The National Anti-Corruption Commission ruled in July that Yingluck was negligent for failing to halt the program after being warned of losses that grew to an estimated 500 billion baht ($15.2 billion).
'Abused Power'
"Yingluck didn't stop corruption nor losses from the rice program, which shows that she abused power and there are grounds for impeachment," Vicha Mahakun, a corruption commissioner, told the legislature today.
Along with the financial losses, Prayuth has said that checks of rice storage warehouses revealed irregularities, including missing rice and quality deterioration.
"If we want to reconcile, do we need to forgive everyone first?" Prayuth told reporters on Tuesday. "It's not like that. We need to be able to justify it. I want to reiterate that anyone who commits wrongdoing will need to be treated in line with the justice system. If you think you are right, you need to fight legally. If you are guilty, you will accept punishment. It's not difficult."
The rice program, which lapsed about three months before Yingluck was ousted, spurred the buildup of record stockpiles as farmers expanded output and the government bought the crop. The Food & Agriculture Organization put Thai holdings at 17.8 million metric tons last year, enough to cover 44 percent of global exports, according to a report in December. Prayuth's junta is still trying to find buyers for the holdings.
Coup Supporters
The legislature not impeaching Yingluck would disappoint supporters of the political grouping that protested against her government for seven months starting in late 2013, blocked an election last February and welcomed the coup. A mix of ultraroyalists, Bangkok's upper and middle classes and southerners from the political stronghold of the Democrat Party, they accuse the Shinawatras of corruption, vote buying and disrespect for the nation's monarchy.
The Shinawatras or their allies have won every national election since 2001 with the backing of voters from the rural north and northeast who were attracted by policies including cheap health care and the rice program. Their supporters see the two coups and court rulings that have removed three prime ministers from office as a sign their electoral choices aren't respected.
A military-appointed court in 2007 disbanded Thaksin's Thai Rak Thai party for breaking election laws, banning him and more than 100 party executives from politics for five years. Thaksin was later convicted of corruption and sentenced to two years in prison. He lives abroad to avoid the charges, which he says were politically motivated.
"Any impeachment of Yingluck would be perceived by most people as a rubber-stamp decision by a judicial tool of arch-royalists, as enforced by the military," Chambers said.
Before it's here, it's on the Bloomberg Terminal.
LEARN MORE