business
What Drivers Want: Design Lessons From Ford's MyTouch Debacle
Ford's first attempt at an dashboard touchscreen taught the company a lot about what kinds of displays make sense for drivers
Belinda Lanks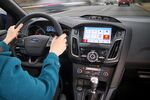 When Ford first introduced its in-dash, touchscreen infotainment system in 2007, it was a bold attempt to put the latest technology right in front of drivers. It was also a miserable failure. Poorly designed, unreliable, and slow, the dashboard system received scathing reviews, tarnishing the second-largest American automaker's quality ratings. In 2012, Consumer Reports weighed in with, "We wouldn't recommend dealing with the frustrations of MyFord Touch on a daily basis even to an adversary." Ouch.
Instead of retreating, Ford learned from the feedback, said Parrish Hanna, the user-experience designer in charge of overhauling the system. The result, called Sync 3, will be in all Ford models here in the U.S. by the end of the year. Gone is the troublesome Microsoft backend, replaced by BlackBerry's QNX, the same technology used by BMW and Porsche. Ford also made substantial changes to the way the dashboard display is organized for ease of use and visibility. In the process, Hanna and his team gleaned a lot about what kinds of technology and design work for drivers. Here's what they learned:
Drivers like knobs. After ditching control knobs for a flat-panel touchscreen, Ford admitted defeat and reintroduced traditional analog buttons in 2013. Customers found the previous system of flush buttons, a touchscreen, and voice commands too complicated and distracting. The key, Hanna said, is to understand what consumers find intuitive and also how that's changed in the past 10 years. When asked to adjust their seat, they'll reach underneath, he points out, but to play music, they'll look to the dashboard screen rather than to a physical button: "iPods have been around now for a decade-plus, and they've really changed the way we do things, particularly with music."
The display can't be too much like a smartphone .... While driving, people can't aim their finger at a screen with precise accuracy; loading an in-dash interface such as a smartphone home screen doesn't just frustrate drivers; it distracts them. Bigger targets are much easier to hit without taking one's eyes away from the road for more than a split second. To identify which buttons belonged front and center, Hanna and his team asked, Which activities do drivers perform most often? The answer: talk on the phone, listen to music, and navigate to their destination. Those zones, designated as large tiles, are now the only ones included on the home screen.
… or too little like one. In the seven years since Ford introduced its first in-dash system, the majority of American adults have gotten smartphones—which means they've also learned a whole gestural vocabulary. For Sync 3, Ford ditched a screen that drivers have to press for one they can just touch, as with a smartphone. "If people touch something, and it doesn't respond, they assume it's broken," Parrish said. The system uses the gestures people have grown familiar with: swiping and pinch-to-zoom, which is especially handy when looking at maps. 
Can't go wrong with Helvetica. Ford also chose clear, easily recognizable icons and rendered type in an optimized version of Helvetica, a popular sans serif font. During the day, those contrast against a bright background so the screen doesn't wash out in the sun. At night, the display switches to a dark background to help reduce eye fatigue and minimize reflections on the windows.
Voice recognition needs to relax. When using the navigation function, drivers can now ask for directions in conversational language. For instance, instead of dictating a building address one number at a time—"two-zero-three-zero-zero"—they can say "Twenty thousand, three hundred." In addition, the system will recognize the common names of businesses, so drivers can find the nearest P.F. Chang's without having to ask for P.F. Chang's China Bistro, as the restaurant is listed in some navigation databases.

Sync 3 fixes many of the problems that plagued MyFord Touch—it's faster, simpler, and easier to use. Will the display's aesthetics impress the likes of, say, Apple design chief Jony Ive? Absolutely not. On its surface, the touchscreen commits one of Ive's cardinal sins: the buttons aren't flat but skeuomorphic: drop shadows make them look like real-life buttons. But Parrish said that after many iterations, this is the look that resonated with their customers. We're willing to bet Ive wasn't among them. 

Before it's here, it's on the Bloomberg Terminal.
LEARN MORE