Vermont's Bold, Republican-Led Experiment in Deciding Elections by Land Area Instead of Votes
A losing candidate tries to win 2014's last election.
By and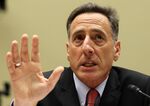 Shortly after 10 a.m. Eastern time Thursday, Vermont's legislature will meet to elect the state's governor. Two-term Democratic Governor Peter Shumlin secured a narrow win in November 2014's popular vote; unfortunately, if no Vermont gubernatorial candidate takes more than 50 percent of the vote on election day, 180 lawmakers get to pick the winner. This has happened 24 previous times in the history of Vermont, which really should tell them something.