Ukraine Confident of New Lifeline From Creditors
Brian Parkin and Hans Nichols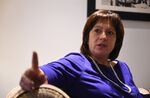 Ukraine is confident that a drive to broaden economic and fiscal reforms will persuade creditors to back urgent fresh loans, Finance Minister Natalie Jaresko said.
Ukraine will succeed in securing new credit to pay off debt and the release of current bailout payments, Jaresko said in an interview. The country is addressing creditors' concerns over tardy reforms by getting to grips with entrenched problems including corruption, tax evasion and lagging government asset sales, she said.
"Time is of the essence" in securing creditor backing, U.S.-born Jaresko said yesterday in Berlin, where she and Prime Minister Arseniy Yatsenyuk are holding talks with German Chancellor Angela Merkel's top aides. "We are looking forward to creditors giving their nod of approval to reform plans."
As IMF officials resume a review of Ukraine's reform progress today in Kiev, Jaresko's comments reflect creditors' increasing impatience over the speed of reforms. At stake is payment of the next batch of aid from the IMF's standing $17 billion rescue package and a further $15 billion identified by the fund that's needed to help debt repayments.
"We are indeed in a critical financial situation," said Jaresko, a 49-year-old former chief executive officer of Kiev-based private equity company Horizon Capital LLC. Further aid will probably mean that a restructuring of debt held in foreign denominations won't be necessary, she said. "We're not currently looking at that."
Aid Conditions
As conditions for further aid, creditors may require commitments to broaden the tax base, deregulate industry, improve the business environment and sell assets, Jaresko said. "That's something I think might be coming from our partners as potential conditions."
Jaresko's stated confidence in securing loans contrasts with Ukraine's deepening recession and rising debt in the second year of armed conflict. The economy will shrink another 6 percent this year, Moody's said in a Dec. 22 report.
Merkel's government yesterday agreed to back 500 million euros ($592 million) in credit guarantees for Ukraine. Jaresko declined to say whether Germany pledged bilateral help beyond that.
Jaresko said that Ukraine is partly counting on bilateral loans from the World Bank and countries including the U.S., Japan and Canada to help plug the new funding gap. It's looking for timely approval of fresh credit ahead of a planned "financial conference" of potential backers as early as March, she said.
European Union Commission President Jean-Claude Juncker said last month that the trade bloc would be hard pressed to pay more than $2 billion over two years to help fill the new gap.
Before it's here, it's on the Bloomberg Terminal.
LEARN MORE