To Get a Texas Abortion, Go to New Mexico
Activists look for alternatives as legislators crack down on clinics
By , , and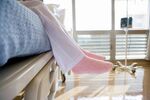 At the start of 2013, there were 41 abortion clinics in Texas. Then the state's Republican-controlled legislature, which had already cut funding for family-planning services and reduced the availability of subsidized contraception, passed a law requiring doctors performing abortions at clinics to have admitting privileges at a hospital within 30 miles. That's often tough, because many hospitals refuse to be associated with abortion providers. Today only 17 of the state's clinics remain in business.
Now a federal appeals court in New Orleans is weighing whether to uphold another part of the Texas law mandating that abortion clinics meet building codes for surgical outpatient centers, such as having hallways wide enough to accommodate stretchers. Lawmakers who voted for the bill say their goal was to protect patient safety, but abortion providers say the expense of remodeling or moving to meet the standards would force all but seven of the remaining facilities to close. That, abortion rights activists say, violates a 1992 U.S. Supreme Court ruling that says states can't place an "undue burden" on women seeking to terminate their pregnancies. "Texas now seeks to do indirectly what, for 40 years, it has been unable to do directly: eliminate millions of women's access to safe and legal abortion services," lawyers for the plaintiffs said in court filings.

Two of the three judges hearing the case ruled against the clinics in a separate challenge last March. "The New Orleans court is widely and correctly viewed as one of the most conservative appellate courts in the country," says Brian Wice, a Houston appellate attorney. "If this were a playoff game, the clinics should be considered a two-touchdown underdog." The Supreme Court has already intervened to let clinics keep operating without meeting the building requirements as the case proceeds, and Justice Stephen Breyer indicated in an earlier opinion that the court's four liberal justices would be willing to hear the case if the clinics lose.
While the court battle progresses, abortion providers and their allies have moved to set up a system for maintaining services in Texas. Planned Parenthood expects to open a $6.5 million ambulatory surgical center in San Antonio in the next few weeks that meets the legal requirements. That would bring the state's total to eight if the courts rule against the clinics. Activists have also created travel funds to pay for bus or airline tickets and hotel rooms for women who need abortions but can't afford the trip to a clinic. One of the newest, Fund Texas Choice, recently hired a full-time staff member to handle requests. "What we're doing is putting out fires, because right now Texas is in a state of emergency," says founder Lenzi Sheible, a 21-year-old law student. "If we're not prepared for the eventuality that there will only be eight clinics in Texas, then we're not doing our job."
In October, Austin-based clinic chain Whole Woman's Health opened a new facility across the state border in Las Cruces, N.M., where abortion requirements are less strict. Whole Woman's Health, lead plaintiff in the federal appeal, plans to expand hours there if the sole remaining clinic in nearby El Paso closes. "For a long time I'd had my eye on New Mexico," says Amy Hagstrom Miller, the company's founder and chief executive. "When this law was passed, it was even more compelling. Going into Las Cruces felt like a really smart thing to do on behalf of the women of West Texas and South Texas so that they could have an option no matter what."
Lawyers for the state of Texas have cited the New Mexico clinic as evidence that the state's restrictions on clinics don't unfairly prevent women from obtaining abortions. "The vast majority of Texas abortion patients live within 150-mile driving distances of Austin, Dallas, Fort Worth, Houston, or San Antonio—and each of these cities will host at least one" clinic that meets the rules, the state argued in a December filing. Women in El Paso can avoid the 1,100-mile round trip to providers in San Antonio by going to Las Cruces instead, Texas's lawyers said. "If a law does not impose a substantial obstacle in the path of abortion patients, then it does not matter for 'undue burden' purposes whether the medical justification for the law is strong, feeble or nonexistent," Texas said in court papers.
A study released in July by the University of Texas at Austin's Texas Policy Evaluation Project, which focuses on reproductive health, found that the closures triggered by the new law had reduced the total number of legal abortions in Texas by 13 percent. The legal landscape for abortion providers may shift again this year. Lawmakers have filed bills in advance of the new legislative session that would ban parents from seeking abortions based on fetal gender and require that clinic workers complete training to make sure victims of human trafficking aren't being forced into having abortions.
Groups devoted to counseling women against having abortions say they're expanding their services, too. The South Austin Pregnancy Resource Center, which offers adoption referrals and parenting classes, renovated last year, adding counseling rooms and 600 square feet for training employees. "Everything's brand-new," says Lore Cottone, executive director of the center, which sees about 200 clients per month. "We just want to be available for any woman who is not knowing what she's going to do or is afraid in her situation."
BOTTOM LINE -
The bottom line: A court battle over abortion restrictions in Texas has prompted providers to find ways to make the procedure available.
Before it's here, it's on the Bloomberg Terminal.
LEARN MORE