Tesco Has Long Way to Go to Recover Lost Value: Chart of the Day
Andrew Roberts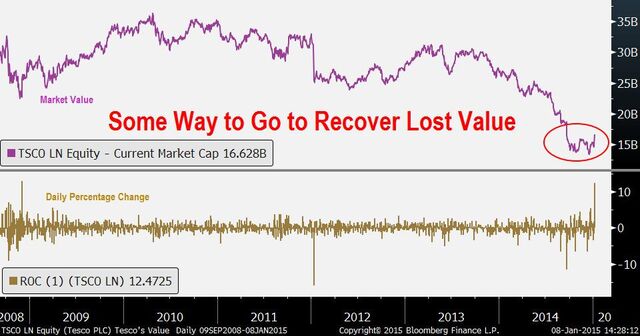 Even after Tesco Plc's biggest share gain since at least 1988, the U.K.'s largest grocer still has a way to go to make up ground lost in the past two years.
The CHART OF THE DAY puts the increase in Tesco's market value in perspective. Even after today's 15 percent advance, the shares are still 8.9 percent below the level they were prior to the company announcing an accounting scandal in September.
Chief Executive Officer Dave Lewis, who has been in the job four months, is trying to revive Tesco in the wake of the scandal and encroachments from discounters. He focused on making the company's produce aisle more competitive during the Christmas season, helping boost the quantity of fresh food sold for the first time in five years.
Tesco's U.K. same-store sales fell 0.5 percent, excluding value-added tax and fuel, the Cheshunt, England-based company said today, compared with an anticipated drop of 3.5 percent. The company, which also today named a new CEO for its domestic business, will close its head office and 43 unprofitable stores as it seeks to cut costs by about 30 percent.
"We remain cautious," said Oriel Securities analyst James Collins. "Cash conservation measures will keep the wolf from the door for now but margins will remain lower for longer."
Before it's here, it's on the Bloomberg Terminal.
LEARN MORE