Tesco Cut to Junk at Moody's on Concern Revival to Take Time
Paul Jarvis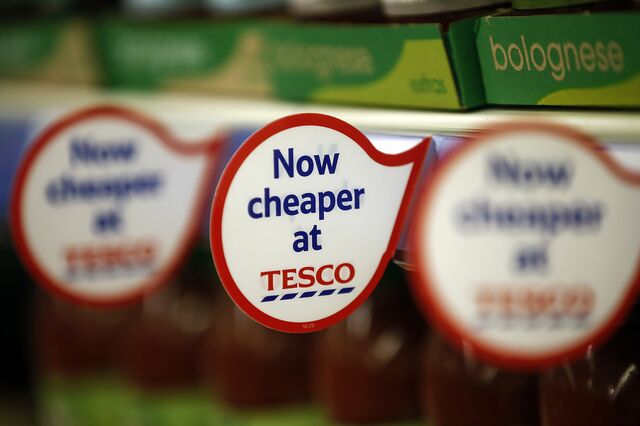 Tesco Plc was cut to below investment grade at Moody's Investors Service, dealing a blow to Chief Executive Officer Dave Lewis on the day he unveiled efforts to stabilize Britain's biggest retailer.
Measures announced by Lewis "will take time to implement and the company's financial profile is likely to remain leveraged beyond what we consider to be commensurate with an investment-grade profile," Sven Reinke, a Moody's analyst, said in a statement. The senior long-term rating was cut to Ba1 from Baa3, the last investment-grade level.
The move will probably add to the grocer's borrowing costs and increase pressure on Lewis to raise capital quickly, either by divesting businesses or selling new shares. The CEO said today that there was no need for a fire sale of assets, describing Tesco's funding and liquidity as "really robust" after the company secured a 5 billion-pound ($7.5 billion) loan last year.
In an effort to win back customers lost to discounters, Lewis is changing the way the grocer works with suppliers, adding staff at stores and cutting prices. Competition among grocers in the country could lead to a "permanent reduction in average operating margins in the industry" from 3 percent to 4 percent, and is a primary reason for today's move, Moody's said.
Turnaround Efforts
The reduction comes after Tesco Chief Financial Officer Alan Stewart met with credit-rating providers yesterday in an effort to persuade them to keep their investment-grade ratings.
"If there is a downgrade it would be with the intention that we intend to operate as an investment-grade company," Stewart told reporters after Tesco reported an improvement in sales over the Christmas period. He also unveiled measures to bolster the grocer's performance including the closure of stores and the company's head office. "We'll continue the dialog."
Tesco has had one of its toughest years, issuing three profit warnings since June as the loss of shoppers to discounters Aldi and Lidl was compounded by the discovery of an accounting black hole.
The CEO is reviewing all aspects of the business, with analysts speculating it may divest operations in countries such as Thailand or South Korea. Tesco today said that it appointed Goldman Sachs Group Inc. to "explore strategic options" for the Dunnhumby data-analytics unit that include a sale and an initial public offering.
Even after a "successful execution of the intended asset sales, the company's leverage will likely remain at levels more consistent with a Ba1 rating over the intermediate term," Moody's said.
Before it's here, it's on the Bloomberg Terminal.
LEARN MORE