Tesco Abandons Video-Streaming Ambitions in Blinkbox Sale
Amy Thomson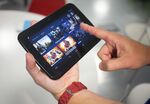 Tesco Plc, the U.K.'s biggest retailer, has agreed to sell Blinkbox to TalkTalk Telecom Group Plc as the grocery-store chain exits the streaming video business.
Blinkbox, which offers thousands of movies and TV series that can be streamed to computers, TVs and through PlayStation consoles, will be added to TalkTalk's TV platform, London-based TalkTalk said in a statement today.
Tesco had made Blinkbox the center of a push into digital services, banking on customers wanting to buy TV and broadband in the same place they purchase milk and eggs, a strategy pursued by other retailers like Wal-Mart Stores Inc. and J Sainsbury Plc. The new strategy didn't stop a slide in earnings, which are set to drop to the lowest in at least a decade. Tesco today said it's going to sell off businesses and close stores.
TalkTalk didn't disclose how much it paid for the service. Sky News said that the acquisition will cost the U.K. phone company 5 million pounds ($7.5 million) yesterday, without saying where it got the information.
As part of the deal, TalkTalk will also add Tesco's 75,000 broadband customers and 20,000 phone subscriptions.
Vodafone Group Plc, the country's third-largest wireless company, had previously considered buying Blinkbox to help it build out a TV service set to go on sale later this year, a person familiar with the company's plans had said.
Tesco rose 6.2 percent to 193.4 pence in London trading at 9 a.m. TalkTalk gained 1 pence to 310 pence.
The retailer also said today it is exploring "strategic options" for its Dunnhumby data-analytics business, will cut annual capital spending by 1 billion pounds, stop dividend payments and may close its defined benefit pension scheme.
Before it's here, it's on the Bloomberg Terminal.
LEARN MORE