Elon Musk Won't Send You Into Orbit Looking Frumpy
SpaceX realizes that design matters: It's engineering a more fashionable spacesuit for future travelers to Mars
By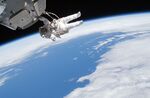 SpaceX has grand ambitions of commercial missions to the moon and to Mars. In the process, the company wants its future travelers' spacesuits to be not just safe, but also snappy.
"We are putting a lot of effort into design aesthetics, not just utility," SpaceX founder and Chief Executive Officer Elon Musk said of the suit on Jan. 5 in a Reddit "ask me anything" session. "It needs to both look like a 21st century spacesuit and work well. Really difficult to achieve both."
It's a safe bet that SpaceX is trying to advance spacesuit design into a more form-fitting look, away from the bulky paradigm that has ruled space travel fashion since at least the summer of 1969, when Neil Armstrong and Buzz Aldrin first strolled on the moon. A sleek, futuristic suit is also a design marker—much like airlines invest heavily on their crew uniforms—and would help denote SpaceX as a consumer brand if the company (and its rivals) succeeds in making space accessible to the masses. SpaceX declined to comment on its spacesuit design work, which Musk said will be unveiled later this year.
Given the enormous risks of spaceflight, the gas-pressurized suits currently employed by the U.S. and Russia favor function over form. They're huge and heavy celestial lifesavers that can weigh as much as 300 pounds. As a result, one of the complaints that has long plagued spacesuit fashion is the lack of comfort, considering their balloon-like nature and systems that need to accommodate everything from thermal and atmospheric protection to carbon dioxide exhaust to bathroom needs.
The traditional spacesuit was "an engineering marvel" that was "great for 45 years ago, but we can do better," Dava Newman, a professor of aerospace engineering at MIT, said at a Wired design conference in October. Moreover, the heavy suit technology "just won't cut it when we get to Mars," she said.

With the march of technology, several new approaches are being considered. One, introduced by Newman's team in September, is a skintight "BioSuit" that shrinks onto the body, achieving pressurization not with gas but with a soft exoskeleton of heat-activated materials that shape to fit the traveler's frame. Among the advantages: The reduced weight leaves an astronaut more energy for actual work.
In April, NASA announced the winning "Technology" design of its prototype Z-2 space suit, which is expected to serve as the initial basis for engineering work on the suits that humans will wear on the first manned mission to Mars. The Z-2 has a composite upper torso that's firm, a change from the Z-1's soft material, circa 2012. Testing of the Z-2 began late last year and will lead to changes for another prototype, the planned Z-3.

These trends in suit design are an inkling of what Hollywood—unshackled by the burdens of science—has been suggesting for years in movies and on television. We've been trained that future space garb looks something like what Matthew McConaughey wears. As a result, that long history of design is likely to inform the aesthetic sensibilities of the folks at SpaceX: After all, they hardly want customers feeling dowdy.
Before it's here, it's on the Bloomberg Terminal.
LEARN MORE