Esmark Bids for Serb Steelmaker as IMF Eyes Asset Sales
Gordana Filipovic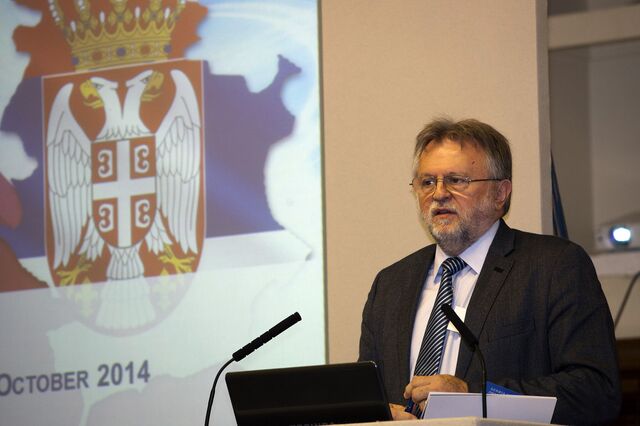 Serbia's government received one valid offer for its sole steelmaker as it seeks to end a four-year lull in asset sales, convince international lenders it can overhaul the economy and rein in the budget deficit.
Esmark Europe BV submitted the only valid bid out of two in a tender for 80 percent of Zelezara Smederevo doo, Finance Minister Dusan Vujovic told reporters in Belgrade today. The steelmaker is one of 500 companies the country needs to sell or close this year to improve state finances.
"I expect that we will reach an agreement based on Esmark's bid in the course of January and sign the contract," Vujovic said. "The fact that we have just one bidder doesn't speak of a lack of interest, but of 100 percent respect for the tender procedure."
Serbia is joining other Balkan nations in a drive to divest unprofitable state companies as governments are under pressure from the European Union and the International Monetary Fund to plug budget holes and attract more foreign investment. Slovenia aims to sell state banks to recoup money spent on the financial industry's rescue and Croatia plans to seek buyers for assets including Luka Vukovar harbor and the national airlines.
State Coffers
Prime Minister Aleksandar Vucic needs to persuade the International Monetary Fund and the World Bank he can sell state businesses, which have drained about $1 billion of taxpayers' money from state coffers a year, to meet conditions of a stand-by loan agreed in November and awaiting IMF confirmation.
The government pledged to narrow the budget deficit to less than 3 percent of gross domestic product through 2017, from about 8 percent last year, and wants to reduce unemployment in a country where one in five is out of work. The cabinet is trying to boost growth after floods last spring pushed the economy into a third recession in five years.
Serbia also needs to convince the European Union that the planned state aid to restructure Zelezara won't distort competition and will make the company viable, according to Serbia's pre-accession agreement with the 28-member bloc.
The European Commission, the EU's executive arm, is looking for a consultant to assess any form of aid Serbia plans for Zelezara, including tax breaks, debt forgiveness and cheap power and transport, according to a tender it published Dec. 18.
'Some Problems'
"We have some problems under the Protocol 5 of the pre-accession agreement with the EU and everyone in the government is working to resolve those problems," Bojan Bojkovic, Zelezara's chief executive, said today.
Serbia bought back Zelezara for $1 from United States Steel Corp. in January 2012 after the company curbed operations as the economic crisis in Europe reduced demand. The government has subsidized the company with as much as 10 million euros ($11.9 million) a month.
The tender conditions called for an investor to keep the Zelezara stake for 10 years, start a second blast furnace by 2016, ensure a 50 percent capacity utilization for the second blast furnace and the full capacity of the first blast furnace.
With 5,000 workers, Zelezara had a $186 million loss and capital of $21 million at the end of 2013, according to Privatization Agency data. It owes around 260 million euros to banks, 120 million euros to suppliers and 145 million euros for raw materials. The government plans to assume Zelezara's debt owed to other state companies as of Dec. 31, 2013, according to tender conditions.
Croatia, Slovenia
Neighboring Croatia plans to renew sale plans for Hrvatska Postanska Banka d.d., its last major state-owned lender, and Luka Vukovar d.o.o. harbor this year. It also wants to sell Croatia Airlines d.d. as well as minority stakes in Luka Ploce d.d. and Koncar-Elektroindustrija d.d..
In Slovenia, Prime Minister Miro Cerar adopted the previous government's plan to sell 15 companies, with Telekom Slovenije d.d. and bank Nova Kreditna Banka Maribor d.d. being the most valuable assets. Four of the companies have been sold so far, including the Ljubljana airport, while Telekom Slovenije and Nova KBM are slated for sale in the first quarter.
Before it's here, it's on the Bloomberg Terminal.
LEARN MORE