Boxer Won't Seek Re-Election, Setting Up Fight for Senate Seat
Kathleen Hunter and Jonathan Allen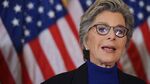 Senator Barbara Boxer, a four-term California Democrat, announced today that she won't seek re-election in 2016, opening up a battle to succeed her in the nation's most-populous state.
"I will not be running for the Senate in 2016," Boxer said in a video interview with Zach Rodham, one of her grandsons and a nephew of former Secretary of State Hillary Rodham Clinton.
Boxer, 74, gained fame during a decade in the House as a scourge of overspending at the Pentagon and won election to the Senate in 1992. She became chairwoman of the Senate Environment and Public Works Committee, a gavel she just gave up after Republicans won control of the Senate in the November election.
Her retirement sets up a high-profile Senate race next year, when Democrats are bullish about their prospects of regaining control of the chamber. Republicans must defend 22 Senate seats compared with nine for Democrats, a reversal from the past two elections when significantly more Democratic seats were on the ballot. California is home to about one in eight Americans.
Republicans won a net nine Democratic seats on Nov. 4, giving them control of 54 in the 100-member body.
Boxer is the first senator in this cycle to announce she won't seek re-election. Louisiana Republican David Vitter, who is up for re-election next year, has said he will run for governor this year, though he doesn't have to give up his U.S. Senate seat to do so.
Potential Candidates
Potential Democratic candidates to succeed Boxer include California Attorney General Kamala Harris, state Lieutenant Governor Gavin Newsom, Representative Loretta Sanchez of California, and former Los Angeles Mayor Antonio Villaraigosa.
Villaraigosa is considering a bid for Boxer's seat, according to a person close to him who requested anonymity because the former mayor hasn't spoken publicly about it. Villaraigosa didn't immediately reply to a request for comment.
Possible Republican contenders for the seat include Hewlett-Packard Co. Chief Executive Officer Meg Whitman, who ran unsuccessfully for governor in 2010, and former Hewlett-Packard CEO Carly Fiorina, who lost to Boxer in 2010 and is now exploring a presidential bid. Other potential candidates in the party are former Secretary of State Condoleezza Rice and U.S. Representative Darrell Issa of California.
Partisan Clashes
As head of the environment committee for eight years, the sharp-tongued Boxer rarely if ever shied away from clashes with Republicans, particularly Oklahoma's Jim Inhofe, the panel's top Republican for most of that time. Inhofe now will be chairman of the panel.
Boxer in 2009 won committee approval of a bill to cap carbon emissions over objections from Inhofe and other Republicans, who boycotted the meetings. Later that year, she was disappointed when President Barack Obama and other backers of the climate-change legislative effort decided to hold off on the measure. Inhofe said, "We won, you lost, get a life."
In 2011, as Republicans on Capitol Hill sought to repeal some environmental protection laws and regulations and cut funding for federal regulators, Boxer said, "For the life of me, I don't understand why my Republican colleagues want to threaten the air we breathe and the water we drink."
Pelosi Notified
Boxer had notified close friends, including donors and House Minority Leader Nancy Pelosi of California, before releasing the video on her political action committee's website.
"She called me. I thought she wanted to go to dinner," Pelosi said today. "Senator Boxer has been such a great champion for the people of California and the country."
Fellow California Democratic Senator Dianne Feinstein said in a statement that Boxer "has made a real difference for California and the country."
"Barbara and I worked particularly hard on the fight against global warming -— I think no one is more engaged on this issue than she," Feinstein said.
Montana Senator Jon Tester, chairman of the Democratic Senatorial Campaign Committee, called Boxer a "fearless and dedicated legislator."
Senate Democratic Leader Harry Reid of Nevada said in a statement that Boxer "is one of the finest public officials the state of California has seen. Her efforts to combat climate change and ensure we have clean air and clean water will be remembered long past her retirement."
Other Announcements
Republicans said they expect more announcements like Boxer's.
"This could be the first of many Senate retirements thanks to their new Democrat minority status," said Andrea Bozek, a spokeswoman for the National Republican Senatorial Committee. "Today's news raises the question whether there will be additional" retirements by Democrats.
Boxer said in the video that she has no plans to retire from public life and that she isn't leaving the Senate because of her age or the partisan divisions in Congress.
(A previous version of this story corrected Newsom's title.)