Peter Thiel's Founders Fund Invests in Cannabis Industry
Serena Saitto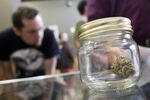 Founders Fund, the venture capital fund started by investor and PayPal co-founder Peter Thiel, is making a multimillion-dollar investment in the legal cannabis industry.
The fund is investing in Privateer Holdings, a Seattle-based holding company that owns marijuana-related businesses. Founders Fund is participating in a second round of financing totaling $75 million, following an initial fundraising of $22 million. Founders Fund didn't say how much it contributed.
Pot is now legal for recreational use in four U.S. states and the District of Columbia, as public opinion turns against the drug laws that banned marijuana. As the debate shifts to how cannabis and related products should best be regulated, consumed and taxed, investors have taken notice. The legal cannabis industry could be worth "hundreds of billions of dollars" globally, said Geoff Lewis, a partner at San Francisco-based Founders Fund, which has $2 billion under management.
Privateer's subsidiaries include cannabis information website Leafly, Canadian medical cannabis company Tilray and Marley Natural, which will offer "heirloom Jamaican cannabis strains, cannabis- and hemp-infused topical products, and accessories in late 2015," the firm said.
Privateer will use the funds to expand existing operations and invest in legal and medical cannabis businesses, according to Brendan Kennedy, founder and chief executive officer. He declined to provide the firm's valuation. A report last month by Business Insider that pegged Privateer's value at $500 million is inaccurate, Lewis said.
Mainstream Business
Founders Fund is the first institutional investor to commit funding to the cannabis industry. Privateer's other investors include family offices and wealthy individuals, Kennedy said.
"With this investment they are signaling that they, like us, believe that the end of prohibition and the social harms it causes is inevitable," Kennedy said. "The best opportunities are now in brands, as cannabis is transitioning from being sold in Ziploc bags to being professionally packaged."
Kennedy, 42, started Privateer in 2010 and was previously chief operating officer at SVB Analytics, part of SVB Financial Group, the holding company for Silicon Valley Bank.
Thiel, 47, was an early investor in Facebook Inc. and is known for making unconventional investments in different industries. Founders Fund has also backed Airbnb Inc., Lyft Inc., Space Exploration Technologies Corp. and Palantir Technologies Inc.
"We are comfortable making investments that look weird to people, such as SpaceX," said Lewis, adding that Founders Fund didn't seek its limited partners' approval before making the investment in Privateer. "Our view is that the American public widely support the legalization of cannabis and we have no reasons to believe that our LP base has a different view of the world than the general public."
Kennedy predicted that more U.S. states will legalize recreational marijuana use, helping to expand the market.
"We believe that by the 2016 presidential elections, six more states will approve marijuana recreational use," said Kennedy, who estimated that the total industry in the U.S. is worth as much as $50 billion.
Before it's here, it's on the Bloomberg Terminal.
LEARN MORE