Paris Killers Still at Large As Manhunt Continues
Gregory Viscusi, Matthew Campbell and Helene Fouquet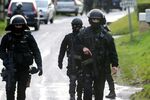 The suspects in the massacre of journalists at French magazine Charlie Hebdo remained at large after a dragnet of thousands of security personnel failed to catch them.
Elite counter-terrorist police have surrounded three hamlets about 70 kilometres (44 miles) north of Paris in an effort to find Said Kouachi, 34, and his 32-year-old brother Cherif. The villages –- Corcy, Fleury, and Longpont – abut a dense forest larger than the city of Paris.
The two men are believed to still be in the area, and may be in possession of a rocket launcher and other weapons, according to a police official who declined to be identified in line with government policy. They still have the Renault Clio car they used to flee Paris, and police don't believe they are injured, the official said.
Residents said police were conducting house-to-house searches, and local officers stopped journalists at roadblocks. More than 1,000 police officers are in the area, and authorities in Belgium, Luxembourg, and Germany are also on alert.
France is in the midst of one of the largest manhunts in its history after 12 people were killed on Jan. 7 at Charlie Hebdo's Paris offices by masked men brandishing Kalashnikov assault rifles. Tensions mounted yesterday after a policewoman was shot and killed just outside Paris, although there's no indication the incident is connected to the earlier attack.
"Our country is experiencing moments of exceptional gravity," Interior Minister Bernard Cazeneuve said at a press conference. "I want to say to the French people that the government has taken measures to ensure their security."
Nine people have so far been taken into custody in connection with the attack on Charlie Hebdo, Cazeneuve said. The weekly satirical magazine angered some Muslims with its depictions of the Prophet Muhammad.
Paris on Edge
The region where the Kouachi brothers are believed to be holed up is a rural mix of beetroot and wheat fields, woodlands and limestone quarries that were used to hide soldiers during World War I. While some police vehicles carrying heavily-armed tactical officers sped out of the cordoned-off area last night, many remained in place overnight.
Parisians were on edge yesterday in the wake of the first assault and the shooting of the policewoman, which took place in the suburban town of Montrouge.
The unarmed officer was killed and a traffic agent injured after an assailant shot them with a pistol and an automatic weapon. The attacker remains at large.
A suspicious package also resulted in the evacuation of the Gare du Nord, where Eurostar trains arrive from London, and police flooded tourist sites like the Eiffel Tower and the Louvre. Near the Elysee Palace, police in body armor blocked the streets.
International Meeting
French officials plan to convene a meeting of international security officials on Jan. 11 in Paris, which will include U.S. Attorney-General Eric Holder, Cazeneuve said.
The U.S. is investigating whether the attack is linked to broader plans for terrorism, National Security Agency director Michael Rogers told Bloomberg reporters yesterday.
The dead at Charlie Hebdo included eight journalists, a guest at the weekly, a maintenance man and two policemen. The magazine's most renowned cartoonists -- known by their pen names Cabu, Charb, Tignous and Wolinski -- were among those killed.
One of the suspects, Cherif Kouachi, was known to police and intelligence services after spending time in prison for participating in a jihadist group. While his brother Said does not have a criminal record, officials have intelligence that he may have attended a militant training camp in Yemen, the police official said. Both men are French citizens of Algerian descent.
Soothing cultural tensions in France, which has Europe's highest proportion of Muslim residents, will now be a priority for President Francois Hollande's government. Cazeneuve yesterday stressed that all French Muslim groups had condemned the attack, and said the government would "not tolerate any act, any threat" against Islamic communities.
Before it's here, it's on the Bloomberg Terminal.
LEARN MORE