Paris Attack Suspect Had History of Terror-Charge Arrests
Helene Fouquet and Tara Patel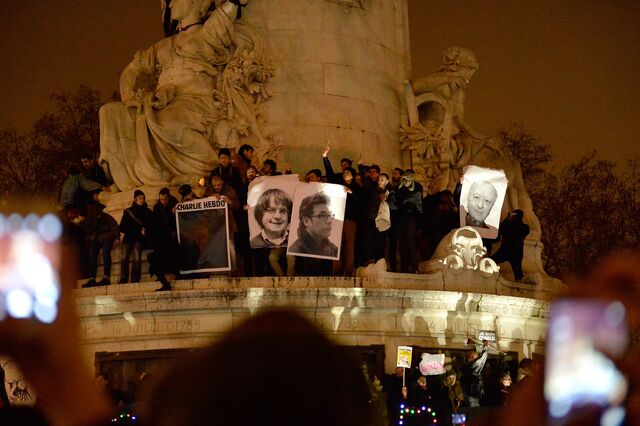 Cherif Kouachi, one of the suspects in the attack that killed 12 people at Charlie Hebdo, is no stranger to the French police. A decade ago, after he was arrested for his role in a jihadist recruitment cell, the then-Interior minister warned that fanatics like Kouachi would one day wreak terror in the country.
Now Kouachi, 32, and his brother Said, 34, are on the run after the attack on the Paris office of the satirical magazine. They are "armed and dangerous," the Paris police said in a call for witnesses to help locate them. Their photos, names and birthdates are on the official police Twitter account @prefpolice.
It's at least the third time Cherif has been hunted by French authorities. In 2005, he was arrested as part of the "Filiere des Buttes Chaumont" cell, a group named after the leafy park in Paris's 19th arrondissement near where they met to recruit jihadists to fight in Iraq.
Cherif, a former pizza delivery man, was detained as he and others in the group prepared to fly to Damascus, Syria. He was held in custody and sentenced in 2008 to three years in prison, including 18 months he had already served.
Cherif said during the trial that he was inspired by the abuse of inmates by U.S. troops at Baghdad's Abu Ghraib prison. He had alternated between periods of smoking marijuana and listening to the sermons of Farid Benyettou, the self-taught preacher at Paris mosques who was considered the spiritual leader of the group. Benyettou was sentenced to six years.
Minister's Warning
In a 2005 speech two months after police cracked the cell, Interior Minister Dominique de Villepin warned that such Iraqi-trained jihadists would "come back to France, armed with their experience, to carry out attacks."
Recruitment of French citizens into the jihadist cause has become a national concern. In his New Year's Eve address, French President Francois Hollande said terrorism and fundamentalism were "growing and worrying threats." Several plots were foiled in recent weeks, Hollande said shortly after this week's attack.
Current Interior Minister Bernard Cazeneuve told parliament on Dec. 17 that 1,200 French citizens are or have been involved in the Syrian war, with 390 there now as members of radical Islamic groups. He said the government estimates that 60 have been killed and 185 have returned to France, of which 82 are in jail and 36 others are under some form of judicial control.
France introduced last year a new law aimed at preventing its residents from leaving the country for combat zones. Among the measures, the government stepped up efforts to shut down websites and blogs aimed at recruiting fighters.
Second Arrest
Cherif was still in France when he was arrested again in 2010 for suspected involvement in plotting the escape of one of the masterminds of bombings and terrorist attacks in 1995 that killed eight people and injured more than 200, according to police reports.
He was detained for more than four months before being released after prosecutors decided not to proceed with his case, Le Monde newspaper reported.
He then disappeared until last summer, when he returned from Syria with his brother Said, Le Point weekly reported on its website.
On Jan. 7, gunmen entered the offices in eastern Paris of Charlie Hebdo, a weekly paper with a history of satirical cartoons with Islamic themes. Twelve people were killed, including two policemen, and 11 others were injured.
The tragedy spurred outrage from leaders around the world, including the heads of Muslim nations and organizations, and brought tens of thousands of people out to rally in support across Europe and the U.S. France has deployed thousands of police to protect train stations, airports, schools and cultural sites.
Youngest Suspect
The Kouachi brothers were born in the 10th district of the French capital and were described by a police source cited by Le Point magazine as hoodlums that became radicals. Of Algerian descent, they were most recently living in Gennevilliers, at the outskirts of Paris, according to Liberation newspaper.
The youngest suspect sought by French police after the Charlie Hebdo shootings is 18-year-old Hamyd Mourad, who is thought to have provided logistics for the attack, Le Point said. He has turned himself in to the police, the paper reported.
Before it's here, it's on the Bloomberg Terminal.
LEARN MORE