Panera Becomes Activist Fodder as Six-Year Rally Ends: Real M&A
Brooke Sutherland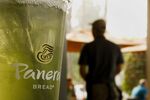 Panera Bread Co.'s first down year for shareholders since 2007 may provide an opening for activist investors.
The sandwich chain known for its fresh breads fell about 1 percent in 2014 after an almost fivefold rise in the prior six years. The $4.7 billion company is now trading at a discount to most peers, even as analysts project its sales growth for the next couple of years will outpace the median for the group.
The lower valuation and management turnover -- Panera's chief financial officer, chief marketing officer and chief franchise officer have all left in the last six months -- may create an opportunity for an activist to come in and push for changes, according to Wedbush Inc.
"If I were an activist, I would get involved there," Nick Setyan, an analyst at Los Angeles-based Wedbush, said in a phone interview. There is "easy, low-hanging fruit that an activist can come in and address."
Some possibilities include adding debt to the balance sheet to buy back more shares, introducing a dividend or shifting the restaurant mix more toward franchisees, said Raymond James Financial Inc. An activist also could prod St. Louis-based Panera to take a hard look at the costs involved in a digital initiative it's in the process of implementing.
"For some time, we've been taking steps to reposition the company for medium- and long-term growth and expanded earnings by focusing on being a better competitive alternative," Chief Executive Officer Ron Shaich said in an e-mailed statement. The company's digital overhaul is an important part of these efforts, he said.
Restaurant Targets
Funds managed by activists jumped by almost $19 billion in the first nine months of 2014 to $112.07 billion, after almost tripling during the previous five years, according to the most recent data from Chicago-based Hedge Fund Research Inc. The investors have increasingly found opportunities in the restaurant sector, with Darden Restaurants Inc., Bob Evans Farms Inc. and Cracker Barrel Old Country Store Inc. among those that have drawn interest.
"A lot of activist investors see value with the restaurant stocks these days," RJ Hottovy, a Chicago-based analyst at Morningstar Inc., said in a phone interview. "I wouldn't rule anything out."
Most of the members on the Bloomberg U.S. Limited Service Restaurant Index rose in 2014. Panera didn't, as it lowered profit guidance and put money into its digital plan. Analysts are projecting the stock will trade at $171 a share a year from now -- below its closing price of $172.87 on Wednesday.
Today, Panera shares climbed 0.8 percent to $174.26 at 11:24 a.m. New York time.
Valuation 'Bullseye'
The stock decline has left Panera trading at about 26 times its earnings in the past year, a discount to the median multiple of about 31 for similar-sized North American restaurant operators, according to data compiled by Bloomberg.
"Those companies that have discounted valuations relative to their peers, that ultimately could put a bullseye on their back as ideas for activists to take a look at," Bob Derrington, a Nashville, Tennessee -based analyst at Wunderlich Securities Inc., said in a phone interview. The company is doing the right thing by investing in digital, and sales trends should improve, but "Panera Bread has struggled, there's no doubt about that."
Franchise Focus
An activist investor could push for an increase in franchisee stores, said Hottovy of Morningstar and Brian Vaccaro of Raymond James. The company had roughly a 50-50 mix between company-owned and franchisee locations at the end of September, for a total of more than 1,800. Shifting a larger percentage to franchisees would give Panera more stable cash flow, lessen its capital responsibilities and allow it to take on more debt.
Panera could in turn use money raised from borrowings to buy back more shares, Hottovy said. "That would be the blueprint" for an activist, he said.
Introducing a dividend is another option, said Vaccaro of Raymond James. While companies are sometimes wary of issuing a dividend because it can be interpreted as a sign that growth is behind them, expanding chains such as Texas Roadhouse Inc. and Cheesecake Factory Inc. increased their payouts last year, he said.
Expensive Upgrade
Activists could also home in on the costs surrounding Panera's efforts to go digital. Dubbed Panera 2.0, the program includes online ordering for rapid pick-up, mobile payment capabilities and Apple Inc. iPad kiosks for in-cafe ordering.
Panera has put the cost of implementing these upgrades at about $125,000 per restaurant.
It's "just really way too expensive for me," Peter Saleh, a New York-based analysts at Telsey Advisory Group, said in a phone interview. "If they could find ways to materially reduce that cost, it would really help the returns and would support the justification to do this investment."
The company should do a better job of communicating the potential costs and margin impact associated with the transformation and would do well by investors to "accelerate the process so that the pain is very quickly over with," Setyan of Wedbush said.
The pain and high costs may just be a necessary evil for a program that will help keep the sandwich chain relevant and growing in the digital world, said Derrington of Wunderlich.
Another potential hurdle is Panera's dual-class shareholder structure. Panera has 1.4 million Class B shares outstanding that carry three times the voting power, about 95 percent of which are owned by founder and CEO Shaich, according to regulatory filings.
That would make it more difficult for an activist to wage a proxy fight, though it doesn't prohibit someone from getting involved and agitating for a new direction.
When it comes to activist interest in Panera, "you never can rule it out in a name that has underperformed as much as they have," Vaccaro of Raymond James said.
Before it's here, it's on the Bloomberg Terminal.
LEARN MORE