To Weaken Obamacare, Republicans Would Add $53 Billion to the Federal Deficit
The Republicans' plan to change the health law's definition of full-time work would increase Medicaid enrollment, Obamacare subsidies, and the deficit
By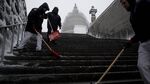 To bring down Obamacare, Republicans want to start by reversing the requirement that employers provide health coverage to people who work at least 30 hours a week. A new report by nonpartisan analysts at the Congressional Budget Office warns that the GOP's reform would increase the deficit by $53 billion over 10 years and add as many as a million people to government-subsidized health programs. About 1 million fewer people would get health benefits from their employers.
The Affordable Care Act requires employers with more than 50 workers to provide health coverage to anyone working at least 30 hours a week or face penalties. Republicans and employer groups have long opposed the 30-hour threshold and the paperwork nightmare needed for companies to comply with the rules. The new Congress, with both the House and Senate now in Republican control, is taking aim at the 30-hour rule in one of its first acts, as Bloomberg's Alex Wayne reported. The House is considering H.R. 30, dubbed the "Save American Workers Act of 2015," which would raise the threshold to 40 hours, leaving employers with no obligation to offer health care to anyone working as many as 39 hours a week.
The consequences of the change, according to the CBO, include outcomes that some Republicans might not want. If a million Americans lose health benefits from their jobs, as the CBO expects, many would turn to publicly subsidized programs such as Medicaid, the federal-state health insurance for the poor. Others would seek coverage on the new Obamacare exchanges and would likely qualify for government help to buy private health plans. The change proposed by the Republican legislation will also reduce how much the U.S. Treasury collects in tax penalties from employers who don't provide coverage.

Right now this is largely theoretical. While Kentucky Senator Mitch McConnell, the new Republican majority leader, has promised a vote on repealing the 30-hour provision, President Obama has threatened a veto should the provision reach his desk. If the 30-hour standard became law, the combination of more government spending on subsidized health care and lost tax revenue from employer penalties would increase the federal deficit by $53 billion in the next decade—an outcome few Republican lawmakers would want to brag about back home.