No Matter How Low Oil Falls, U.A.E Envoy Says Don't Pump Less
Indira A.R. Lakshmanan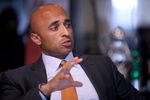 No matter how low oil prices fall, there's no reason for OPEC to curtail production in an effort to push them back up, the United Arab Emirates' ambassador to the U.S. says.
"This extra glut in the market is not coming from the OPEC members, so therefore why should the OPEC members have to cut their production?" Ambassador Yousef Al Otaiba said today at a Bloomberg Government lunch in Washington. "The Gulf is saying, 'We're willing to take some difficulty for the benefit of the long-term health of the energy supply and demand.'"
Oil prices have dropped to less than half their high last year, as the boom in North American shale helped add more than 5 million additional barrels of oil a day to global supply from non-OPEC nations since 2011. In the same period, the Organization of Petroleum Exporting States has kept its production steady at about 30 million barrels a day, according to OPEC figures.
Al Otaiba's comments underscore the divide within OPEC between Gulf States led by Saudi Arabia, Kuwait and the U.A.E, which say their priority is keeping their share of the global market, versus a bloc led by Venezuela and Iran, which are more dependent on oil revenue and are calling for cuts in production so that prices will rise.
Global Glut
Oil slid to the lowest level in more than five years today, as analysts said a global supply glut will linger through the first half of the year. Brent crude for February settlement decreased 19 cents to $50.96 a barrel on the London-based ICE Futures Europe exchange, the lowest close since April 2009.
"I think we can live with this for a lot longer than people expect," Al Otaiba said. The U.A.E.'s economy is healthy and depends on oil for only one-quarter of its gross domestic product, compared with states far more reliant on oil for GDP and government funding, he said. The U.A.E. holds about 6 percent of the world's oil reserves.
Budget Cuts
While the U.A.E.'s revenue is down, with budget cuts affecting all government departments including the embassy in Washington, the flip side is that the U.A.E.'s energy-intensive industries such as airlines and aluminum smelters are operating at a lower cost, he said.
Many of the oil-dependent states most affected by the price drop, such as Iran, Venezuela and Russia, have foreign policies that are often in opposition to those of U.S.-allied Gulf States such as the U.A.E..
Fourth-Biggest Producer
Asked if that was one reason the Gulf bloc was holding firm on keeping production steady, Al Otaiba said, "I'm sure that's part of the calculation," but for the Saudi-led camp, "the most important thing is really the overall health of the energy markets."
The U.A.E. was OPEC's fourth-biggest producer in 2013, according to the group's latest figures. Al Otaiba said the price fall won't affect investments, and reiterated that oil projects that have already been signed will go head. Even with oil at $50 a barrel, Emirates energy is still a good investment, Al Otaiba said.
Before it's here, it's on the Bloomberg Terminal.
LEARN MORE