Moncrief Brings Gazprom Siberia Gas Fight to Hometown Texas Jury
Margaret Cronin Fisk and Tom Korosec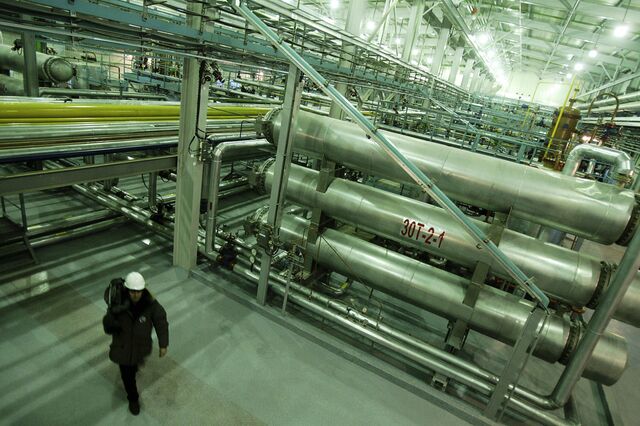 In 1997, Fort Worth, Texas, oilman Richard Moncrief waded into the murky post-Soviet Russian energy landscape and struck what he says was a deal with a OAO Gazprom unit to develop a big natural gas field in Siberia.
Eighteen years later, Moncrief, the grandson of one of the original Texas wildcatters, is still trying to enforce his company's claim against the Russian energy giant, this time before a hometown jury in state court in Fort Worth.
The trial, set to begin with opening statements today, may be the best chance for his Moncrief Oil International Inc. to claim compensation from Gazprom, after losing previously in multiple other courts.
Moncrief Oil, which is seeking $1.37 billion in damages from Gazprom and several subsidiaries, lost in a German courtroom in 2010 and a separate suit over the same deal was dismissed in federal court in Texas in 2007.
The trial's location, in the city where Moncrief Oil is based, is a concern for Gazprom, Mike Calhoon, a lawyer for the Russian company, told prospective jurors Tuesday. He asked 150 prospective jurors whether they would be predisposed to favor someone from the locally prominent Moncrief family over a Russian business. Dozens raised their numbered cards to indicate they would be.
A jury of six men and six women selected yesterday will hear the case.
Moncrief Accusations
Closely held Moncrief Oil accuses Gazprom of backing out of a deal over rights to develop the field, blocking a joint venture with Occidental Petroleum Corp. and misappropriating trade secrets related to a plan to sell Russian gas to U.S. consumers.
Moncrief says it obtained its interest in Russia's Yuzhno-Russkoye Field, also known as the Y-R Field, through a series of agreements with a Gazprom subsidiary. Gazprom later contracted with the German chemical company BASF SE to develop the field.
Gazprom, which has denied wrongdoing, says Moncrief should be pursuing its claims in Russia and not in the U.S.
Moncrief is suing in the U.S. because Russia is "not a realistic option given the culture of lawlessness that pervades Russian society," lawyers for the Texas company said in court papers.
Lawyers for both sides declined to comment before trial.
Moncrief contends the initial deal was muddied by corruption in Russia before Vladimir Putin became prime minister and then president. Gazprom dropped the deal later, after it was seemingly back on track.
Mending Ways
After Putin rose to power, Moncrief met with the highest officials of Gazprom "who promised they had mended their ways" and would honor Moncrief's interest in the field, Marshall Searcy, a lawyer for the family, told prospective jurors.
"You will hear this was just another string of false promises," he said. "We are seeking big damages. Big, big damages."
Moncrief said it relied on the purported deal with Gazprom to develop a separate joint venture with Occidental Petroleum that would import natural gas and market it from Texas throughout the U.S. Occidental agreed to the joint venture in exchange for an option to acquire an interest in the Y-R field from Moncrief, according to court papers.
Gazprom "destroyed the joint venture," Moncrief's lawyers said in the company's complaint. Gazprom met with Occidental, suggesting an arrangement that could "bypass any participation by Moncrief," and asked Occidental to persuade Moncrief to end its litigation over rights to the field, the lawyers said.
Occidental Venture
Gazprom representatives "pointedly closed the meeting by reminding Occidental of its significant Russian assets," Moncrief lawyers said in the complaint. "Occidental terminated its joint venture with Moncrief in the middle of 2007 as a result of the defendants' untoward conduct."
Both the German and U.S. federal courts rejected the initial Moncrief suits, finding a lack of jurisdiction. Moncrief's case in federal court in Fort Worth was dismissed in 2007 and the U.S. Court of Appeals in New Orleans affirmed the dismissal.
In its opinion, the panel said the federal court couldn't weigh in on a purely foreign transaction. "Jurisdiction would exist if Gazprom committed a tort while in the state," the court said.
That left an opening for Moncrief to pursue its claims against Gazprom in state court.
LNG Plans
In the current action, Moncrief claims Gazprom misappropriated trade secrets and interfered with its business as a result of a series of meetings and discussions that followed Gazprom's announced intention in 2003 to sell liquefied natural gas to the U.S., according to a summary of the case in a 2013 Texas Supreme Court opinion.
Gazprom representatives traveled to Fort Worth, Houston and Boston to participate in talks, which included Moncrief's study of the U.S. natural gas market and prospects for building a liquefied natural gas import terminal near Corpus Christi, Texas. That project would have been a partnership with Houston-based Occidental.
Gazprom relied on confidential information gathered in talks with Moncrief and pursued separate talks with Occidental, according to Moncrief's suit. Gazprom later established a Houston unit to import liquefied natural gas, regasify it and sell it in the U.S., according to the Texas Supreme Court's opinion.
Wildcatter Legacy
Richard Moncrief is the son of William "Tex" Moncrief and grandson of the late William "Monty" Moncrief, who was among the original wildcatters making discoveries in east Texas in the 1930s, said Bruce Bullock, director of the McGuire Energy Institute at Southern Methodist University in Dallas.
"In Dallas you have the Hunts and in Fort Worth, it's the Moncriefs and the Basses," Bullock said.
Richard Moncrief, after working with the family business, founded Moncrief Oil International to explore for oil and gas overseas, according to the website of the family's Moncrief Oil and Montex Drilling Co. "The venture proved to be very lucrative for Dick Moncrief," according to the website.
"The Moncriefs have been synonymous with Texas oil and big finds for a long time," Bullock says. Tex Moncrief was 89 in 2010 when he made one of the biggest discoveries of his career, the Davy Jones gas well in the Gulf of Mexico off Louisiana. Forbes ranks Tex Moncrief on its list of the world's richest, with a net worth of $1 billion.
The case is Moncrief Oil International Inc. v. OAO Gazprom, 017-229664-08, District Court, Tarrant County, Texas (Fort Worth).
Before it's here, it's on the Bloomberg Terminal.
LEARN MORE