Meet the 90-Year-Old Italian Grandma Behind One of Bologna's Best Restaurants
By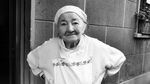 Francesca Verri rises at 5 a.m. and cycles two kilometers from her home near the Ducati motorcycle factory to work in a trattoria where she spends the day making pasta.

Nothing exceptional about that, you might think. But Verri just celebrated a significant birthday.
She turned 90 on Dec. 4, 2014, and has no plans to slow down. She says that she loves her job at Trattoria dell'Autotreno in Bologna, where she also embroiders the napkins.
She grew up on a farm in Ferrara, about 50 kilometers (30 miles) away, working on a farm where she helped grow a variety of crops, including beets, tobacco, and rice, working in water in an area that was known for mosquitoes. The hardest crop was hemp.
"I learned to cook as a child, and I have loved it ever since," she says in an in-person interview, when she doesn't break off from making tortellini, dabbing the mortadella and parmesan into tiny squares of her fresh pasta she has just rolled out.
"I used to cook for the people in the fields. We had to cook for so many people. My husband came to Bologna in the mid-1950s to work in a factory with his cousins. After six months, I followed him with our son. I got a job with a pasta firm."
RELATED: Where to Eat in Bologna, Italy: Best Restaurants and Delicious Dishes

What's the secret of good pasta?

"You have to make it by hand," she says. "That's key. You don't need a machine to make the best pasta. Good eggs are important, too, and good flour so your tortellini don't turn dark. Each Christmas at home, I make 50 kilograms (110 pounds) of tortellini to give to people as presents."
Verri goes to the trattoria three days a week, starting at 7 a.m. and not going home until the work is done. She lives on the road to Borgo Panigale with one of her sons. She says she has never visited Florence or anywhere except Bologna and Ferrara.
"I like Bologna," she says, and pauses for thought. "Ferrara is nice, too. That's the second place I would choose to live. Everyone gets round by bicycle or on foot. It is very pleasant."
Doesn't she ever think about retiring?
"I am retired," she says, looking up briefly before returning to her tortellini.
Trattoria Dell'Autotreno is at Via Secchia 3, 40131, Bologna; +39 051 558007. Verri was speaking Italian: Angela Lorenz interpreted.

(Richard Vines is the chief food critic for Bloomberg. Follow him on Twitter @richardvines)
Before it's here, it's on the Bloomberg Terminal.
LEARN MORE