Are These States Big Enough for Two Presidential Candidates?
In Florida, Texas, and Wisconsin, a crowded Republican presidential field could force donors and activists to choose among friends.
By and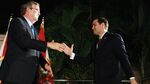 The call was a courtesy, but a necessary one. Jeb Bush, a Republican kingmaker in his home state of Florida, had spent years cultivating the career of a young man who lives just three miles away in Miami, helping guide his path from the statehouse to the U.S. Senate. Now, it was time for Bush to let Marco Rubio know that the mentor was a rival.
Bush, who had once blessed Rubio's political ascent in Florida by bestowing on him "the sword of a great conservative warrior," called him hours before announcing plans to explore a run for president. Rubio, who has spent years mapping out his own White House bid, has said Bush's decision wouldn't impact his own. The political establishment back home had a different take. "I don't think Marco Rubio can run against Jeb Bush," said Brian Ballard, the chief Florida fundraiser for Mitt Romney's 2012 presidential campaign and John McCain's effort in 2008. "I don't think there's space in the narrative. Marco Rubio is a very smart guy, he knows that."
It's not just Florida. Local politics have gone national for the Republican presidential field, as the most wide-open primary in almost 50 years is stirring the ambitions of  a record number of politicians, including some who rose through the local ranks together. In Wisconsin, Governor Scott Walker and U.S. Representative Paul Ryan—separated by three years in age and who grew up only 20 miles apart—are both considering national campaigns. In Texas, U.S. Senator Ted Cruz endorsed his governor, Rick Perry, for president in 2011. Now, with both weighing presidential bids, they shake hands at state events and snipe from a distance.
More than a dozen Republicans, ranging from sitting politicians to a former talk show host, have said they are eyeing the race. Just this week, Louisiana Governor Bobby Jindal met with pastors in Iowa, Bush wooed Wall Street donors in Greenwich, and Perry and New Jersey Governor Chris Christie touched down in Florida for the governor's inauguration. The early jockeying and flood of funding requests have prompted some donors to screen their calls. One long-time Republican donor who's reached the point of dodging candidates said it's an on-going problem for many of the core givers and that money that they spend fighting each other isn't productive for the party.
The intra-state contests are also highlighting a broader debate within the party over whether their next leader should be a seasoned Washington politician or a governor with executive experience and none of the D.C. taint. "We've shown why the founders of this great nation looked to the states—and not the federal government—as the source of hope for this exceptional country," Walker in his inaugural address on Monday in Madison.
Nowhere is that dynamic more intense than in Texas, one of the Republican Party's most significant sources of campaign cash. Wealthy Texas business interests have spent 14 years backing Perry's gubernatorial ambitions, pouring more than $100 million into his state campaigns. Cruz is beloved by grassroots activists, who see him as seizing the conservative mantel once held by Perry.
Adding to the woes of those two favorite sons are a couple of other White House hopefuls with family ties to the state. The Bush political machine is still active—it helped elect Texas Land Commissioner George P. Bush last November—and Jeb Bush was in Dallas over the Christmas holiday working to lock it up. The former Florida governor is headed back to the Lone Star State this month for what one donor characterized as an organizational meeting. And former U.S. Representative Ron Paul of Surfside, Texas, has been making overtures around the state on behalf of his son, Kentucky Senator Rand Paul, who spent New Year's Eve courting donors at a Houston Rockets game.  One prominent Texas Republican said many contributors are just waiting to see who gets in.

While Cruz and Perry have a working professional relationship, say aides, they're not particularly close. "The governor is focused on the final days of his historically successful time in office and Cruz is focused on what he does in Washington," said Mark Miner, Perry's former spokesman, now doing government affairs at a law firm in Austin.
In August 2011, Cruz enthusiastically endorsed Perry for president at the annual meeting of RedState.com, a conservative website. "He is a conservative, in his heart, in his gut," he told an audience of cheering activists. "My prediction is Rick Perry will win the nomination." Three years later, his assessment had evolved. At this year's Red State gathering, Cruz presented himself as a lone conservative fighter taking on Washington and Perry stressed his executive leadership.
"Ask me in eight years if Senator Cruz has made an impact on the state," Perry told reporters in Washington last June.
Cruz, who crushed Perry by almost a four-to-one margin in a 2016 straw poll at the Texas Republican convention last year, fired back during an appearance in Iowa, the state that traditionally holds the party's first presidential nominating contest. "Victory number four—five?" Cruz said in August, making a reference to the infamous gaffe that effectively ended Perry's 2012 presidential bid when he couldn't remember the names of all the federal departments he planned to obliterate. "I could say 'oops,' but that would make news," Cruz added.
In Wisconsin the competition is more genteel, but also more personal. Ryan and Walker first met two decades ago at a Republican event as both were starting their climb through state politics. Janesville, the blue-collar, southern Wisconsin city where Ryan grew up, is 20 miles from Delavan, where Walker spent most of his childhood. The two still talk frequently and text often. And they've long been political allies: Ryan has campaigned for Walker, praising the governor's courage during the 2011 recall effort and spending the last week of the 2014 midterm elections on Walker's re-election campaign bus. Between rallies, they talked politics, policy, and, of course, hunting and the Packers, said an aide.
The relationship is so close that Walker told the Milwaukee Journal Sentinel that he'd defer to Ryan, if the 2012 vice presidential nominee decides to run for president. (Wisconsin Republicans agree: 69 percent want Ryan to run for president while just 50 percent say the same about Walker, according to a Marquette University Law School poll in October.) While Ryan hasn't publicly announced his plans for 2016, he's been focused on the new role he's spent years targeting: House Ways and Means Committee chairman. Walker, 47, has said he intends to serve his term, but last month met with Las Vegas casino magnate and Republican financier, Sheldon Adelson. "The conventional wisdom here in the state is that Walker has been interested in running for president at least since his book came out," said Charles Franklin, a political scientist who runs the Marquette poll.

In Florida, this dynamic has played out before between Bush and Rubio. When then-U.S. Senator Mel Martinez surprised his allies by announcing his retirement in 2009, Rubio quickly made it known that he was interested in running for the seat. He put his plans on hold when Bush said he was considering a campaign. It was only after Bush declined to run for Senate that Rubio announced.
While Rubio has raised his national profile since then, his challenges in running against an increasingly-likely Bush campaign are clear. Florida's sizeable and influential political establishment would largely align itself behind Bush, and Republican voters in the state say they prefer the former governor by more than a three-to-one margin, according to a Saint Leo University poll last month. 
Still, there remains a path for the former protégé to make his own run. For one, the state's early primary was moved back in the calendar—at Rubio's request. The change puts Florida in compliance with national party rules, and also means the pair wouldn't have to compete in their own backyard until later in the process, when a front-runner may have already emerged.
"If we made the decision to run for president, I believe that we can put together the organization and raise the money necessary to win," Rubio said in an interview Wednesday with the Associated Press.
Rubio has also established his own national fundraising machine, thanks to the 2010 Tea Party movement that claimed his campaign that year as one of their proudest successes that year. He plans to continue fundraising for his own political action committee, and travel the country promoting a new book to be published later this month. Rubio allies say both efforts will help him gauge interest in a presidential campaign. Rubio, who has said he'd give up a Senate re-election campaign in 2016 if he ran for president, also moved his annual spring-time meeting with donors to this month so he can measure their interest in underwriting a national campaign. That meeting begins Jan. 23, the same day Bush is speaking to the National Automobile Dealers Association in San Francisco.
"I would be very excited to have a Floridian in the presidential race," Martinez said in an interview. "At the end of the day, I have a feeling that we won't have two."