Are These States Big Enough for Two Presidential Candidates?
In Florida, Texas, and Wisconsin, a crowded Republican presidential field could force donors and activists to choose among friends.
By and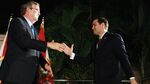 The call was a courtesy, but a necessary one. Jeb Bush, a Republican kingmaker in his home state of Florida, had spent years cultivating the career of a young man who lives just three miles away in Miami, helping guide his path from the statehouse to the U.S. Senate. Now, it was time for Bush to let Marco Rubio know that the mentor was a rival.