Korean Air May Reduce Debt Ratio to 596% From 809% on Share Sale
Kyungji Cho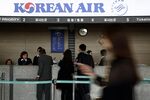 Korean Air Lines Co., the nation's biggest carrier, may cut its debt ratio by more than 200 percentage points if the company completes its proposed share sale, according to Korea Investors Service.
The airline is planning to offer 14.16 million of new shares to raise 500 billion won ($455 million). Hanjin Energy Co., a unit, is in talks with Saudi Arabian Oil Co., known as Saudi Aramco, to sell its stake in refiner S-Oil Corp. for 1.98 trillion won. The deal is expected to be completed in the first quarter, according to the South Korean rating company.
The carrier may reduce its debt ratio to 596.1 percent from 809.1 percent as of Sept. 30 if it repays debt with the funds from the share sales, Korea Investors Service, an affiliate of Moody's Investors Service, said in a report dated yesterday. That would be credit positive, said the rating company, which grades the company A-, its fourth-lowest investment score, with a stable outlook.
"The sale plan will improve its financial profile, in combination with a favorable industry environment, the possibility of improving earnings from the drop in oil prices and the recovery of cargo revenue," Kim Yong Gun, a senior analyst at KIS in Seoul, wrote in the report.
A risk for the airline's credit quality is that it may have to provide additional support to affiliate Hanjin Shipping Co., according to KIS. Hanjin Shipping posted net losses for three straight years through 2013, and had a net income of 37 billion won excluding minority interest in the third quarter after losses in the first part of the year.
Korean Air plans to sell new shares at 35,300 won each. The stock price has fallen 4.5 percent since the sale plan to 43,600 won as of 12:42 p.m. in Seoul.
The new shares are expected to be listed on April 1, the airline said in a Jan. 6 regulatory filing.
Before it's here, it's on the Bloomberg Terminal.
LEARN MORE