Kaisa Can't Say If It Plans to Meet Bond Coupon Deadline
David Yong and Christopher Langner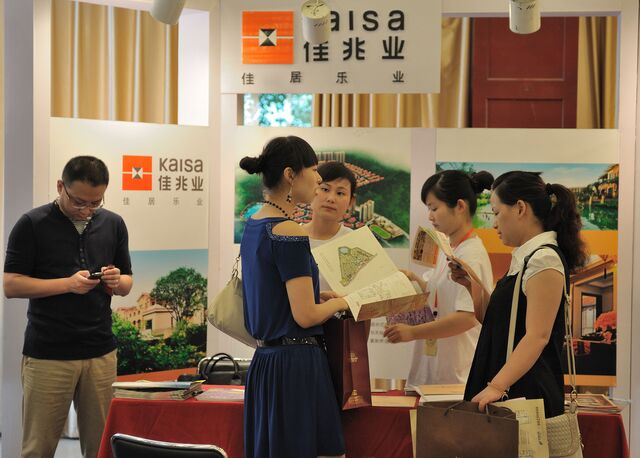 Kaisa Group Holdings Ltd., the Chinese developer that defaulted on a loan last week after its chairman departed, can't say if it plans to meet a bond deadline today as a local news website said lenders took steps to preserve assets.
The builder of residential communities and shopping centers must pay about $26 million in interest on its 10.25 percent 2020 debentures today, according to the prospectus. The developer can't answer the question of whether it plans to meet the payment, Lin Yikang, in the company's media and public relations management department, wrote in an e-mailed reply. The notes fell to a record closing low of 29.9 cents on the dollar yesterday and were at 32.1 cents as of 4:08 p.m. in Hong Kong, according to prices compiled by Bloomberg.
No Chinese developer has defaulted on dollar-denominated bonds before, said Dennis Lee, a Hong Kong-based analyst at Standard & Poor's. At least three financial institutions, including banks, have applied to a court in the southern city of Shenzhen where Kaisa is based for pre-litigation preservation of its property, Caixin reported yesterday, without citing anyone. Heng Tam, an outside spokeswoman for Kaisa in Hong Kong at iPR Ogilvy & Mather, said the company declined to comment.
"Everyone is rethinking risk right now and so are we," said Singapore-based Brayan Lai, the head of research and money manager at One Asia Investment Partners. The credit hedge fund has about $200 million of assets. "There are uncertainties about Chinese companies" amid concerns over Greece and U.S. debt markets, he said.
Executives Exit
Kaisa's Chairman Kwok Ying Shing resigned Dec. 31, triggering default on a HK$400 million ($51.6 million) loan from HSBC Holdings Plc. Days earlier, Chief Financial Officer Cheung Hung Kwong and Vice Chairman Tam Lai Ling also left. Joanne Mo, who was an investor relations executive at the developer, has also departed, Lin said.
Calls to Kaisa's management office in Shenzhen were directed to Li Xiaogang in the media relations department. Li said he didn't have information on whether the coupon payment would be made and that he couldn't comment until there is a statement to the Hong Kong stock exchange.
Junk Losses
Kaisa's difficulties are rippling beyond Shenzhen, where some of its projects have been blocked.
Souyidai, the financial platform of Chinese search engine Sohu.com, pledged on Jan. 6 to make full payment if Kaisa's two subsidiaries, which are acting as guarantors, can't repay principal or interest on a 68.11 million yuan ($11 million) wealth management product sold through the site.
China's speculative-grade dollar notes have lost 5.1 percent in 2015, the worst start to a year ever in Bank of America Merrill Lynch indexes.
"This is a reversal of the idea that nothing is wrong in China," said Philip Groves, founder of Chicago-based DAC Management LLC. The firm manages about $400 million in Chinese distressed assets.
There is an 80 percent chance the builder will miss the coupon payment on those securities today, according to a CreditSights Inc. report yesterday. The deadline is 11:59 p.m. Hong Kong time, it said.
The company's stock in Hong Kong fell 47 percent in December, its steepest monthly decline on record, before being suspended Dec. 29.
Default Watch
Credit markets have been sending signals of strain as the nation's economic growth slows. Expansion in gross domestic product will cool to 7 percent this year from an estimated 7.4 percent in 2014, the slowest in more than two decades, according to analysts surveyed by Bloomberg.
In March, Shanghai Chaori Solar Energy Science & Technology Co. became the first company to default in China's onshore yuan bond market. Closely held developer Zhejiang Xingrun Real Estate Co., based near Shanghai, collapsed that month under 3.5 billion yuan of debt.
"It's a normalization of the Chinese market where you're finally starting to see defaults," said David Gaud, a Hong Kong-based fund manager at Edmond de Rothschild Group, which oversees the equivalent of $157.9 billion. "Over the medium to long term it's a positive. Companies which aren't sustainable economically are no longer supported."
Policy Support
Developers that rely on personal relations in securing land from the government are among the most at risk as President Xi Jinping's fights graft and attempts to manage the cooling economic expansion. After China's central bank cut interest rates for the first time since 2012, new-home prices fell in 67 of 70 cities in November, down from 69 the previous month.
"Kaisa is just one independent case, not a whole-market situation that we are worried about," said Michelle Kuo, a money manager in Taipei at Union Securities Investment Trust. Kuo, who has $90 million of assets under her management, said she sold Kaisa's 2020 notes in December. "There could be one or two more separate events, but they won't have any systematic impact on the bond market."
S&P downgraded Kaisa to "selective default" from BB- on Jan. 5, saying there's a "high likelihood" it will renege on obligations. Moody's Investors Service cut Kaisa three levels to Caa3 with a negative outlook on the same day.
Kaisa said in a Jan. 7 filing that it's "assessing the overall impact on the financial position as a result of the recent developments of the Group."
The builder had 79.9 billion yuan of liabilities on June 30, according to data compiled by Bloomberg, including four dollar bonds with a face value of $1.95 billion. Its 105.6 billion yuan of assets included 9.4 billion yuan of cash.
Kaisa said in a Dec. 21 filing that pre-sales at four projects in Shenzhen were blocked and hadn't received notification from authorities despite inquiries. The developer also said routine applications for licenses, permits and approvals for eight projects in the city hadn't been accepted.
"Kaisa was well regarded and it clearly demonstrates that in China, external factors to the business can quickly change the credit story," Michel Lowy, chief executive officer at fixed income broker-dealer SC Lowy Financial (HK) Ltd., wrote in an e-mail interview today. "So far, arguably, this was not fully priced in."
Before it's here, it's on the Bloomberg Terminal.
LEARN MORE