Judge Overturns California Foie Gras Ban
A Los Angeles judge struck down the two-year-old ban on Wednesday.
By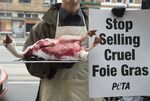 Let them eat foie gras!
A California federal judge struck down the state's contentious foie gras ban on Wednesday, much the to the delight of chefs, restauranteurs, and to the dismay of animal rights advocates. 
U.S. District Court Judge Stephen Wilson ruled that the two-year-old ban encroached on the federal government's regulatory powers. California Attorney General Kamala Harris said she was reviewing Wilson's decision and had not yet decided whether to appeal the ruling to the 9th Circuit Court of Appeals.
In the meantime, however, the dish, which is made by force-feeding poultry animals so as to fatten their livers, is once again an option for diners across the state.  
"It goes on the menu tonight," Ken Frank, chef and owner of La Toque in Napa told the San Francisco Chronicle. "All of my sous chefs are jumping up and down. This means chefs in California can cook with their favorite ingredient, just like chefs everywhere else in the world."
Animal rights activists are not celebrating, however. 
"Foie gras is a product of egregious cruelty to animals, and the state of California has an absolute right to ban it," Bruce Friedrich, Farm Sanctuary's advocacy and policy director, told the San Jose Mercury News.