India's Discount Airlines Get Vistara as Upscale Rival
By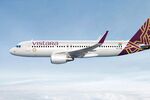 India is one of the world's toughest aviation markets, with high state taxes making jet fuel the costliest in Asia and market share-hungry upstarts offering base fares as low as 2¢ per flight. Over the past seven years the subcontinent's airlines have lost $22 on average every time a passenger has stepped on board, estimates consultant Capa Centre for Aviation. That's $10 billion in losses. Yet newcomers keep taking off for a simple reason: The annual number of domestic air travelers is expected to triple to 159 million in the decade ending in 2021.
Rather than joining the fare-cutting frenzy, Vistara, a joint venture of Singapore Airlines and Indian conglomerate Tata Group that begins service on Jan. 9, hopes to woo some of those new flyers by offering premium services—42 inches of legroom in its business class cabin, 17 special meal options, and a frequent-flyer program that awards points based on customers' spending rather than miles flown.
The brand positioning for Vistara is similar to that of Singapore Airlines: high-touch service aimed at flyers who care as much about the in-flight experience as they do about the fare. But Singapore is a far wealthier nation, and Vistara's challenge will be getting cost-conscious Indians to pay upmarket prices. Its 14,500 rupee ($229) fare for a Jan. 9 flight from New Delhi to Mumbai is almost triple the 5,000 rupees Air India charges for that date. "The average Indian passenger and the corporate sector are not really ready to pay a premium for domestic flights that last around two hours or so," says Amber Dubey, partner and head of aerospace and defense at KPMG in New Delhi.
Vistara will compete with seven other carriers in India, where almost two of every three flyers use a budget airline. On top of low base fares, these carriers charge for everything—food, preferred seating, extra baggage. The intense competition has taken a toll on many airlines. Kingfisher Airlines, owned by liquor baron Vijay Mallya, stopped flying in 2012 after defaulting on its debts. And SpiceJet, a low-cost airline owned by billionaire Kalanithi Maran, is struggling as it seeks an outside investor.
On its 148-seat Airbus A320-200 jets, Vistara will serve its 16 business-class passengers meals on linen and bone china. Menus will change weekly. A premium economy section offers extra legroom, and even flyers in coach get leather seats and personal coat hooks. Vistara includes meals in its fares. That contrasts with the no-frills approach of IndiGo, India's biggest airline—and the only one to turn a profit. "We see a clear demand in India for a better flying experience, and we will be focusing on growing operations in cities where there is demand for a full-service airline," Vistara Chief Executive Officer Phee Teik Yeoh said in an e-mail.
The biggest challenge for Vistara will be to keep its expenses in check. "Vistara is well capitalized and has a strong startup management team but will be severely tested in the market," says Kapil Kaul, Capa's chief executive officer for South Asia. "High levels of service in the front end have to be matched with a low-cost back end."
Yeoh said Vistara will cut expenses through its use of technology and by flying only A320s to trim training and maintenance costs. Still, Tata seems to be hedging its bets: In June it launched a low-cost Indian carrier with Malaysia-based AirAsia. So far that venture has lost $4.4 million for the three months ended in September.
BOTTOM LINE -
The bottom line: Indian airlines lost $10 billion over the past seven years. But domestic traffic is expected to triple from 2012 to 2021.
Before it's here, it's on the Bloomberg Terminal.
LEARN MORE