India's Stagnant Courts Resist Reform
By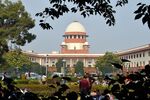 Puneet Mittal, trim and sharply dressed, walks into the lobby of his law office in affluent South Delhi, a smartphone pressed to his ear. He turns to a recently hired associate, Bhavesh Verma. "We're leaving at 9:30. And I don't want to waste time." But through no fault of his own, that's just what Mittal's going to do.
He is making his daily plunge into India's court system, a maze of delays and procedures that puts even the most basic justice out of reach for millions. At the end of 2013, there were 31,367,915 open cases working their way through the system, from the lowest chambers to the Supreme Court. If the nation's judges attacked their backlog nonstop—with no breaks for eating or sleeping—and closed 100 cases every hour, it would take more than 35 years to catch up, according to Bloomberg Businessweek calculations. India had only 15.5 judges for every million people in 2013, then-Prime Minister Manmohan Singh said at the time. The U.S. has more than 100 judges for every million.
Beneath a top layer of established attorneys such as Mittal, the courts are plagued by "goondas in black," a phrase that pairs the Hindi word for "goons" with a sly reference to the black suit jackets lawyers wear in court. To keep collecting fees, these lawyers demand one hearing after another, with no intention of seeking a resolution for their clients, says Alok Prasanna Kumar, senior resident fellow at the Vidhi Centre for Legal Policy, which advocates for a more efficient system. Or, he says, they resort to extortion to make up for a lack of income. A "significant number" of the lawyers, especially outside the capital, have practices that don't sustain them. That leads them to clog the system with pointless litigation: "The bar in India is in a very bad shape," Kumar says.
Even the best attorneys can have low-stakes lawsuits last a decade or more. New Delhi lawyer Murari Tiwari describes one 20-year property dispute: His original client has died, as has one of his sons. While the case crawls through the courts, Tiwari says, the two families in litigation, one including an auto-rickshaw driver and the other a retired policeman, live on opposite sides of the same building in an icy détente.
Mittal, who pegs his seven-lawyer firm's workload at 1,000 cases a year, gestures toward a 2-inch-thick stack of police and court documents on his scrupulously tended desk, detailing one client's 6 million-rupee ($95,000) down payment on some South Delhi real estate in 2006. Three years later, the client found the same land had been sold to a second man. Then he discovered a third buyer. Wanting to avoid a long lawsuit, the client sought arbitration at the High Court of Delhi. In 2011 he agreed to drop legal proceedings against the seller—whom he maintains swindled him—in exchange for the return of his 6 million rupees. Eight years later, he hasn't collected, and Mittal isn't sure he ever will.
After about an hour in traffic, Mittal's white Toyota Fortuner SUV deposits him at the district court in the city's western corridor. He hustles upstairs. It's 10:35 a.m., and his hearing was set to begin five minutes ago. A prosecutor for the Central Bureau of Investigation is scheduled to present final arguments against a client of Mittal's and co-defendants, who are charged with fraudulently obtaining 13.5 million rupees from a bank.
Nothing has happened yet. Mittal and Judge Kanwaljeet Arora chat for 10 minutes about the Indian Penal Code on forgery. Then Mittal turns and walks out. No action today—the prosecutor isn't ready. A notice posted on the court website later says he "is yet to go through the entire evidence and the number of documents exhibited in this case." The matter dates to 1999, when an original complaint was registered with law enforcement. Mittal walks down a stairwell smelling faintly of urine and cigarettes and out to his SUV. "What can you do?" he asks.
Ajit Prakash Shah, a retired chief justice of the Delhi High Court, is trying to do something about the morass. Shah heads the Law Commission of India, an advisory body appointed by the government to push legal reforms. Although he says he sees some improvement, he knows the system is very sick: "The criminal justice system, that's my belief, is on the verge of collapse." Why were the courts allowed to come to this? Shah says, "In Hindi it is called chalta hai—the prime minister spoke on this culture—'it's all right, that is the way in which it goes,' " he says. "Delays, etc., I mean, even judges get used to it."
There may be simple ways to create efficiencies. Shah's commission released statistics last year from a sample of about 9.2 million cases pending as of 2012. More than a third involved traffic fines or other routine matters. People could pay fines online or at designated counters in courthouses.
Attempts at improvement have faltered. In 2000 the Indian government approved 1,734 fast-track courts nationwide to speed the disposal of lingering cases. In 2011 officials in New Delhi cut off the program's funding, citing the states' responsibility to foot the bill. Then in 2013 the government earmarked money to help pay judges' salaries for fast-track courts through March 2015. Still, records released in August showed the number of courts had fallen to 976. All told, the program has handled more than 3.8 million cases, according to statistics from the Ministry of Law and Justice. But there are questions in the press about the quality of the verdicts and their impact on the broader judicial system.
Those involved in even the most basic disagreements—say, a landlord-tenant dispute—may try to sidestep the existing court system, because "the landlord knows that if he goes to court, it will take 30 years, 40 years," says Pravin Parekh, who has served six times as president of the Supreme Court Bar Association. Rather than seek a legal eviction, it's easier to hire thugs—"some undesirable, antisocial element, and he will put the fear of death to that man, and he will vacate," Parekh says.
Mittal, stuck in traffic in his SUV, checks the time—close to 11:30. "Almost half the day is gone," he says. His next appointment is an appellate tribunal that will decide whether to uphold the freezing of a client's assets, valued at 92.6 million rupees. The freeze was connected to three criminal cases, including extortion and a slaying. The client maintains that the cases were groundless or that he was not involved. "He belongs to a political family," Mittal says. It's not unusual for politicians or those close to them to face criminal charges.
The hearing room is so packed that Mittal has to squeeze through the crowd to an empty chair. After about a half an hour, his case is called. He spends 10 minutes arguing the assets should be released, partly because witnesses against his client are no longer cooperating with prosecutors. At one point, the tribunal's chairman responds: "So what?" Then the hearing ends. A decision will have to wait for another day.
BOTTOM LINE -
The bottom line: In India, where speedy justice is a rarity, the courts are burdened by a system that encourages delay and corruption.
Before it's here, it's on the Bloomberg Terminal.
LEARN MORE