France Seeks to Show Why Suspect's History Didn't Avert Attack
Gregory Viscusi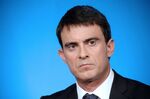 Why were French police, who had a dossier on one of the perpetrators of the deadly attack in Paris yesterday, not able to prevent it?
That's the question the French government sought to address as tensions mounted in Paris with the two assailants who killed 12 people at the offices of the satirical magazine Charlie Hebdo still at large. The hunt for them intensified as a new shooting incident south of Paris today left a policewoman dead, and the French capital was on its highest terrorist alert.
The government says it has too many potential terrorists to follow without the necessary means or legal grounds to track all suspects.
"Hundreds are being followed, tens have been arrested, tens have been jailed," Prime Minister Manuel Valls said today on RTL Radio. "Zero risk does not exist. What's different now is the number of people we have to follow."
Cherif Kouachi, one of the suspects in the attack on Charlie Hebdo, was arrested in 2005 for his role in a jihadist recruitment cell that sent French youth to fight in Iraq. He was convicted in 2008 and released from jail in 2011, French Justice Minister Christiane Taubira said on France Info radio.
While the youngest of the three people suspected of being involved in the assault has surrendered, Kouachi, 32, and his brother Said, 34, are on the run. They are "armed and dangerous," the Paris police said in a call for witnesses to help locate them. Their photos, names and birthdates are on the official police Twitter account @prefpolice.
"They were known to the security services and were being followed," Valls said, without providing further details.
Today's Attack
The government, on the defensive, has acted quickly since the attack, deploying 850 soldiers to help police in the Paris region. Train stations, airports, schools and cultural sites have beefed up security, with armed police patrolling them.
Interior Minister Bernard Cazeneuve said today that seven people are being questioned in connection with the attacks. His comments came as a police officer died after being shot south of Paris. It's too soon to link today's attack to yesterday's shootings, Paris police said.
The very large numbers of radicalized people who now need to be monitored in France has rendered the task exceedingly difficult, intelligence officials say.
"In 1995, we were in charge of watching about a 100 people," Gilbert Thiel, a former anti-terrorist magistrate said on Europe1 radio today. "Now it's certainly more than 1,000, and our means are saturated."
Cazeneuve told parliament on Dec. 17 that 1,200 French citizens are or have been involved with radical Islamic groups in Syria's civil war, with 390 there now. He said the government estimates that 60 have been killed and 185 have returned to France, of whom 82 are in jail and 36 others are under some form of judicial control.
Mohammed Merah
Jean-Louis Bruguiere, a former anti-terrorist prosecutor, said in an interview that Islamic radicals once came out of organizations whose e-mails and money transfers could be tracked, or were radicalized in underground mosques that could be monitored. Now they are recruited through social media.
France last year introduced a new law aimed at preventing its residents from leaving the country for combat zones. Among the measures, the government stepped up efforts to shut down websites and blogs aimed at recruiting fighters. But police say they lack the means to follow all potential threats.
In March 2012, French police faced criticism after 23-year-old Mohammed Merah killed seven people, including three soldiers and four people at a Jewish School in the Toulouse area. Merah, a petty criminal, had been questioned after he returned from Afghanistan and Pakistan in 2011. He was killed in a shootout with police
Public Enemy
Police said at the time that it takes at least eight officers to mount 24-hour surveillance of an individual.
France, which has troops fighting Islamic radicals in the Sahara and whose jets are bombing Islamic State sites in Iraq, is a prime target.
"In the eyes of Al Qaeda and its supporters, France is public enemy number one," said Fawaz Gerges, Emirates chair in contemporary Middle Eastern studies at London School of Economic. "It's waging an all-out war against militants in West Africa, North Africa, Iraq and Syria. ISIS has gone out of its way to put French jihadists on record calling on Frenchmen and French people with Muslim ancestors to go and carry out attacks inside France."
In addition, today's radicals come with a diversity of backgrounds, making them harder to anticipate.
Maxime Hauchard, a 22-year-old Frenchman who was identified in an Islamic State video on Nov. 17 beheading a Syrian soldier, was a convert to Islam from a quiet rural town in Normandy.
ISIS Call
That same day, Islamic State, or ISIS, released a video showing three men burning what they said were their French passports and called on French Muslims to either join them in Syria or carry out terror attacks in France.
Taubira said that only 16 percent of the French people investigated for going to Syria have criminal backgrounds.
"Radicalization happens in ways and in places that aren't obvious," Taubira said. "It would be much simpler if everyone had the same linear paths. We do not systematically put everyone who has been to prison under surveillance."
French police have made their share of mistakes.
On Sept. 23, police were waiting at the wrong airport to arrest three Frenchmen who were deported from Turkey after having served with Islamic State in Syria. The three turned themselves into police the next day. Cazeneuve blamed the mess-up on poor coordination with Turkish authorities.
Identity Card
And Mehdi Nemmouche, a French-Algerian who fought in Syria and then murdered four people at Brussels's Jewish Museum in May, was only captured that month thanks to a routine police search for drugs in Marseille.
Europe1 radio reported that in the attack yesterday the Kouachi brothers were identified because one of them left his identity card in the getaway car.
The Kouachi brothers were born in the 10th district of Paris and were described by a police source cited by Le Point magazine as hoodlums who became radicals. Of Algerian descent, they most recently lived in Gennevilliers, a northern suburb, according to Liberation newspaper.
Before it's here, it's on the Bloomberg Terminal.
LEARN MORE