ArcelorMittal Opens Euro Junk Bond Market With Seven-Year Notes
Julie Miecamp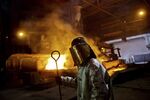 ArcelorMittal, the world's biggest steelmaker, is marketing Europe's first junk-rated debt offering of the year.
The company is selling 750 million euros ($882 million) of seven-year bonds priced to yield 265 basis points more than the benchmark midswaps rate, according to a person familiar with the matter, who asked not to be identified because they're not authorized to speak publicly about it.
ArcelorMittal is taking advantage of cheap borrowing costs amid speculation the European Central Bank will start large-scale debt purchases as it seeks to spur economic growth and curb falling prices. Siemens Audiology was the last high-yield issuer to raise funds in the region, when it sold 275 million euros of securities on Dec. 11.
"ArcelorMittal is a crossover credit that will attract mostly investment-grade funds," said Yves Berger, who helps oversee 607 billion euros as a portfolio manager at AXA Investment Managers Ltd. in London. "January is generally a strong month for issuance with money managers looking to invest the cash they couldn't deploy in December."
Sophie Evans, head of media relations at ArcelorMittal, declined to comment on the bond sale.
The average yield for junk-rated bonds in euros is 4.3 percent, compared with 12.4 percent in 2011, according to Bank of America Merrill Lynch index data.
Luxembourg-based ArcelorMittal has the highest junk grade of Ba1 from Moody's Investors Service and an equivalent BB+ at Standard & Poor's. High-yield borrowers will issue 65 billion euros of bonds in 2015, according to forecasts by JPMorgan Chase & Co.
Before it's here, it's on the Bloomberg Terminal.
LEARN MORE