Wet Seal to Employees: Surprise—You're Out of a Job
By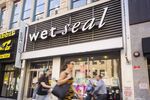 On Jan. 2, employees at the Wet Seal store in Gulfport, Miss., received a large package in the mail. "It was wrapped in green bubble wrap, and it said 'Store Project' on it," says Sonya, 38, the store's assistant manager, who's been with the company for a year and a half. When employees opened the package, they found instructions to pack their iPods, registers, music player, and credit card scanners into the box by the following Wednesday, Jan. 7.
"I thought, how do we function as a business if we've packed up our credit card scanners?" says Sonya. The Gulfport Wet Seal hadn't been getting as many new inventory shipments recently, but Sonya says the company had told her that was because it was planning to renovate the location. She called her store's manager, who didn't know what was going on. She sent Wet Seal's corporate offices an e-mail but received no response. Finally she got a call from a store in nearby Hattiesburg. "That's when we were told we're closing down."
With more than 500 stores across the country, Wet Seal became popular in the 1990s for selling casual, low-priced clothes for teenage girls. But in recent years the California-based retailer has been supplanted by trendier brands, such as H&M and Urban Outfitters. The company has lost $150 million over the past two years. Last quarter, its same-store sales dropped more than 14 percent. In December the company told investors that it planned to close an estimated 60 stores by the end of January. The only problem? Wet Seal doesn't seem to have told the people who work in those stores.
In Wet Seals across the country this week, irate store managers and sales clerks have posted signs on their stores' windows, outlining such complaints as, "We lie to our employees to hide the fact that YES our store is closing and gave NO warning" (a sign in a store in Birmingham, Ala.), "Told us NOT to look for new jobs. Said we were remodeling." (a sign in Dayton, Ohio), and "Unused vacation and sick time unpaid" (Seattle). A #BoycottWetSeal campaign has cropped up on Twitter. On the company's Facebook page and on Reddit message boards, employees allege that the company has laid them off them without notice and, unless state law requires otherwise, isn't honoring the vacation or sick days they'd saved up.
Wet Seal did not respond to Bloomberg Businessweek's e-mails seeking comment; the company's media relations telephone line appears to have been recently disabled.
"It's one thing to not tell us something, but they told us specifically not to look for jobs, that everything was fine, and that we had low inventory because they were just going to remodel the store," says Victoria, 20, who until this week was an assistant manager at a Wet Seal in Dayton and who helped create one of the signs that went viral on Twitter and Instagram. "Oh, and they haven't answered our e-mails in two weeks."
On her last day of work, Sonya oversaw the Gulfport Wet Seal's everything-must-go sale, in which customers could fit as many clothes as possible into a shopping bag for $20. She says the company offered $300 in severance pay to store managers and $100 to other employees, on the condition that they work without incident until the store closes. "I was due for a promotion last October, too, that they told me would come in March, with back pay," she says. "I guess that's not happening now either."
Wet Seal is only the latest teen clothing retailer to run into trouble. Delias and Deb Shops have both filed for bankruptcy in recent months. Like Wet Seal, their stores are often located in shopping malls (Delias also once had a thriving catalog business), which aren't the hangouts they used to be. Because of online shopping, teens and young adults visit malls about 30 percent less often than they did a decade ago, according to a 2014 report by the investment bank Piper Jaffray.
"The Deb store next to our [Wet Seal] in the mall is closing too," says Victoria in Ohio, explaining that both Forever 21 and H&M have recently moved into the mall where she works and have stolen most of Wet Seal's and Deb's customers. "but at least Deb gave their employees a month's notice."
Before it's here, it's on the Bloomberg Terminal.
LEARN MORE