Small-Cap U.S. Stocks Have Weeks for Reversal: Chart of the Day
David Wilson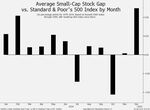 Shares of smaller U.S. companies have room to rebound against their larger peers in the next few weeks if history is any guide, according to Sam Stovall, chief equity strategist at S&P Capital IQ.
The CHART OF THE DAY displays the average monthly gap, in percentage points, between small-cap stocks and the Standard & Poor's 500 Index since 1979. Stovall compiled the data, using the Russell 2000 Index through 1994 and the S&P SmallCap 600 Index since then, for a report two days ago.
Smaller companies did better than larger ones 56 percent of the time in January during the past 35 years, according to Stovall's figures. February was the year's best month by this yardstick, as small caps' win rate was 69 percent.
February also produced the second-biggest average monthly differential, 1.04 points. The largest, 1.24 points, was posted in December as many traders and investors sought to capitalize on the January effect -- a pattern of smaller-company stocks leading as the year begins.
"History concludes that the 'January Effect' should be renamed the 'Illumination Effect,' since January gets to bask in the glow of the surrounding months," wrote Stovall, based in New York. "It's the month 'between the beacons' that gets all of the attention."
In this year's first three trading days, the S&P SmallCap 600 dropped 3.9 percent. Companies in the index have a median market value of $1.05 billion. The slump exceeded a 2.7 percent decline in the S&P 500, whose median value is $18.7 billion.
Before it's here, it's on the Bloomberg Terminal.
LEARN MORE