MTS Rallies as Citigroup Says Buy After Russia Plunge
Halia Pavliva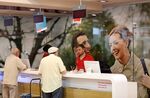 OAO Mobile TeleSystems rose the most in two weeks after Citigroup Inc. recommended buying the stock, saying the mobile-phone company's plunge amid Russia's financial crisis has pushed it to a "genuinely attractive valuation."
The American depositary receipts advanced 5.1 percent to $7.28 in New York. MTS, as the country's biggest wireless carrier is also known, plunged 67 percent last year, its biggest annual drop since 2008. The ADRs sell for 6.7 times projected 12-month earnings, compared with a three-year average multiple of 9.6.
"Even though there is still a lot of uncertainty, it's a good time to buy MTS, as the valuation looks very attractive and Citigroup's view on oil and the ruble suggests there will be some rebound in the medium-term, which would benefit the company," Citigroup analyst Dalibor Vavruska in London said by phone Wednesday. "There is interesting value in the stock even at the current currency level."
MTS sank last year amid a broader slide in Russian stocks as a plunge in oil, the country's top export, exacerbated the impact of sanctions linked to the Ukraine conflict that were already pushing the $2 trillion economy toward a recession. The ruble fell the most among emerging-market currencies, driving inflation to a five-year high. Citigroup sees "considerable appreciation" in crude prices in 2016, while some sanctions may be lifted this June, according to a research report issued Wednesday.
Valuation Discount
The valuation gap between MTS and the MSCI Emerging Markets/Telecommunication Services Index peaked at a four-year high of about 60 percent last month, data compiled by Bloomberg show. The stock traded at about a 52 percent discount on Wednesday.
"The market is too focused on the risk factors associated with Russia," Vavruska said. "MTS trades at a significant discount to emerging-market wireless peers. Such discount may not fully reflect in-market consolidation opportunities, a good strategy, a good execution and solid dividend outlook."
Citigroup, which raised MTS from the equivalent of hold, cut its 12-month price target to $8.90 from $14.90, saying the stock still remains a "high risk" because "visibility is lower than usual for oil price, foreign exchange rate, the Russian economy and interest rates," according to the bank's research note.
The Bloomberg Russia-US Equity Index gained for the first time in three days, rising 1.8 percent to 49.41. Natural gas producer OAO Gazprom contributed the most to the advance, rising 5.4 percent to $4.65. Russian markets reopen Thursday after the Orthodox Christmas holiday.
Shrinking Economy
While crude rebounded from a 5 1/2-year low Wednesday, it has fallen more than 8 percent this month as Russian markets have either been closed or trading with light volumes during the period when the country traditionally celebrates the New Year holiday. The dollar-denominated RTS Index is down 5.6 percent in 2015 after plunging 45 percent last year.
"Russian markets haven't yet digested the depth of the oil price decline," Slava Breusov, an analyst at Alliance Bernstein in New York, said by phone Wednesday. "Even if you believe oil will rebound, why would you buy Russia and expose yourself to the geopolitical risk? There are so many other opportunities in the world."
Economists surveyed by Bloomberg project a 1.8 percent contraction in gross domestic product this year as lower oil prices, a weaker currency and soaring consumer prices worsen the impact of international sanctions. Some of the measures, which include financing restrictions and export bans, may be lifted by June if the Ukraine crisis eases, Citigroup's analysts said in the report.
MTS, which had lost more than half of its market capitalization during its billionaire owner Vladimir Evtushenkov's three-month house arrest on suspicion of money laundering, was also boosted by his release last month, according to the Citigroup report.
"It's in the interest of Russia's leadership to make sure that companies like MTS continue to operate successfully," Vavrushka said.
Before it's here, it's on the Bloomberg Terminal.
LEARN MORE