Republicans Botch Vote on Bill to Ease Dodd-Frank
Billy House and Erik Wasson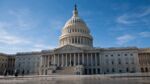 On the second day of Congress's new session, U.S. House Republicans lost a bid to quickly pass legislation to relax some requirements under the 2010 Dodd-Frank financial regulatory law.
The measure would delay until July 2019 a provision of the law's Volcker Rule intended to limit risky investments by banks, and make other changes.
The package was defeated because Republican leaders used a voting procedure usually reserved for non-controversial measures, requiring two-thirds support for passage.
Minority Leader Nancy Pelosi urged Democrats not to support the measure, which failed on a 276-146 vote with 282 needed. She called the legislation "an 11-bill Wall Street wish list" in an e-mailed statement. After the vote, she said in a statement that she "was proud Democrats had stood together to protect critical Wall Street reforms."
Financial Services Committee Chairman Jeb Hensarling of Texas said in a statement that many of the proposals in the bill had previously passed the House with Democratic help last session.
"It's disappointing so many Democrats, who voted for these provisions just four months ago, suddenly switched their votes in a transparent ploy to appease their far-left wing," Hensarling said.
"They were for this bill before they were against it," he said.
Simple Majority
Today's vote margin would be enough to pass the measure under a non-expedited procedure requiring a simple majority.
Leaders plan to bring back the bill for such a vote, said a Republican leadership aide who sought anonymity.
Those voting for the measure, H.R. 37, included 241 Republicans and 35 Democrats. Opponents included 145 Democrats and one Republican.
"Republicans are seeking to tie the hands of Wall Street's watchdogs and further delay the Volcker rule that protects the American economy by prohibiting large banks from risky gambling with taxpayer-backed funds," said Pelosi of California.
Representative Maxine Waters of California, the top Democrat on the Financial Services Committee, said in a statement that lawmakers should have a chance to offer amendments and more fully debate the bill.
Loan Obligations
The Dodd-Frank law's Volcker Rule would require banks to sell their investments in collateralized loan obligations, which are securitized pools of commercial and corporate debt that make regular payments to investors.
The Federal Reserve has delayed that provision's effective date until July 2017, and the bill would grant another two-year reprieve.
In December, Congress repealed a restriction on derivatives trades that Wall Street firms had aggressively lobbied against.
House Rules Committee Chairman Pete Sessions of Texas, whose panel sets floor procedures for voting on bills, said it "wasn't my call" on whether to use the expedited procedure for the vote.
That decision is usually reserved for Majority Leader Kevin McCarthy, who sets floor action, and Majority Whip Steve Scalise, who is in charge of counting votes.