Antiterror Arrests Didn't Prevent the Paris Newspaper Shooting
By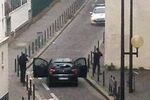 France already knew it was at risk of a terror attack. Since 2010, more than 400 people have been arrested on suspicion of planning religious-inspired attacks on French soil—by far the highest rate in any European country, according to law enforcement agency Europol.
Even so, today's attack on the Paris headquarters of a weekly satirical newspaper left the country in stunned disbelief. "An attack of exceptional barbarism has been committed," President François Hollande told reporters outside the offices of Charlie Hebdo, after the shooting by two black-clad gunmen left at least 12 people dead.
The Bloomberg News account of the assault describes one gunman shouting "Allahu Akbar," or "God is Great" in Arabic, while firing at random inside the office. The shooters fled the scene in a car and remain at large. At least eight people were injured, and four are in critical condition.
The dead included four well-known cartoonists at Charlie Hebdo, which had enraged some Muslims by publishing satirical articles about Islam and cartoon images of the Prophet Mohammed. Its offices were firebombed in 2011.
Adding to the horror, two of those killed were policemen who were mowed down as they arrived at the scene. A gruesome video shot by a bystander shows a hooded gunman felling an officer, then walking over and shooting him in the head as he writhed on the ground.
The attack is sure to fuel already-heated debate over France's relations with its roughly 5 million Muslim residents, the largest Muslim population of any European country. Most are descendants of 20th-century immigrants from North Africa. The younger generation—complaining of discrimination and poor employment prospects—has become a target for jihadist recruitment.
The tension over France's Muslim minority has fueled public support for the right-wing National Front party headed by Marine Le Pen, which ran ahead of the governing Socialist Party and the center-right opposition in last year's European parliamentary elections.
The country has already endured terror attacks, including a 2012 attack by a gunman who killed a total of seven people at a Jewish school in Toulouse and two nearby sites. French law enforcement has stepped up its efforts to foil such attacks, arresting scores of people annually on suspicion of jihadist activity. As the French learned today, it wasn't enough.
Before it's here, it's on the Bloomberg Terminal.
LEARN MORE