Paris Attack Shows How Satire Turned Deadly in Clash of Ideology
Alex Webb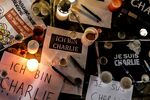 Europe has spent the last 450 years instilling freedom of expression into its political fabric. The deadly attack on a French satirical weekly's Paris office shows how the rise of supranational movements challenges those principles.
Two people dressed in black and carrying firearms, including AK-47 Kalashnikov rifles, entered the offices of Charlie Hebdo magazine on rue Nicolas Appert, shooting at random and killing at least 12 people. At least one shooter shouted "Allahu Akbar," or "God is great" in Arabic.
While today's attack isn't the first time media have been targeted by those disagreeing with its content, it is the deadliest of its kind. As far back as 1988, the supreme leader of Iran placed a fatwa on Salman Rushdie, ordering Muslims to kill him for the publication of his novel "The Satanic Verses," which he viewed as blasphemous.
"The press has always had trouble from governments," Jytte Klausen, a professor specializing in terrorism at Brandeis University, said by telephone. "This is on a very different different scale, because it blends religious extremism."
Charlie Hebdo's cover this week is on "Submission," a book by Michel Houellebecq released today, which is sparking controversy with its depiction of a fictional France of the future led by an Islamic party and a Muslim president who bans women from the workplace.
The killings reflect the value of controlling the flow of information especially in the digital age, according to Fawaz Gerges, a professor in Middle Eastern studies at the London School of Economics. No claim of responsibility for the killings has been made.
Free Speech
"The attack is designed to penalize, to punish, censor, scare and terrorize, to basically shut down the debate," he said by telephone. "In this particular attack on the newspaper, it represents not only an attack on free speech, it also shows the ability of al-Qaeda and its affiliates to really hijack Islamic identity and use this identity to its own advantage."
The use of satire was an issue in the controversy over Sony Corp's "The Interview," a film about a fictional plot to assassinate North Korean leader Kim Jong-Un. The film unit was hacked in response to the film and condemned by Kim.
The Danish daily Jyllands-Posten was assailed by some Muslims after it published a series of cartoons representing Muhammad in 2005. David Coleman Headley, a U.S. citizen who helped plan the 2008 terrorist attacks in Mumbai, had sought to target the daily, a plot that was foiled.
Charlie Hebdo reprinted the same cartoons, which had prompted violent protests that left 50 people dead globally. It was cleared in 2007 of charges it insulted Muslims.
Rushdie Statement
A French judge said that two of the three cartoons in question didn't target all Muslims, just violent ones. The third, showing the prophet Muhammad with a bomb in place of a turban, could offend all Muslims, he said, though it was covered by freedom of speech laws because riots in some countries about the cartoons made its publication newsworthy.
Condemning today's Paris attack, Rushdie said in a statement he stood with Charlie Hebdo "to defend the art of satire, which has always been a force for liberty and against tyranny, dishonesty and stupidity."
In the U.S., freedom of speech has historically been protected by the First Amendment. When Jerry Falwell, an evangelical southern preacher, attempted to sue Hustler magazine for a "parody" of an advertisement for Campari Liqueur, the Supreme Court found in the magazine's favor in 1988.
Still, laws protecting freedom of speech haven't stopped the media from self-censorship. Comedy Central altered an episode of the animated show "South Park" in 2010, cutting an image of Muhammad, whose depiction Islam forbids. A website had warned that the show's makers would "probably end up like Theo van Gogh", the Dutch filmmaker and critic of religions including Islam who was killed in Amsterdam in 2004.
"There's a fascist element to what's going on here," said Klausen of the Paris attack. "It's part of a military campaign. It's high-level terrorism meant to attack us at the core level of our values."
Before it's here, it's on the Bloomberg Terminal.
LEARN MORE