business
Pandora and Rdio Are Fighting for Your Car Radio
For streaming music services, the car radio is important turf
By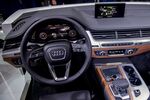 Internet music companies are stoked about the trend toward connected cars, which is on full display at this year's CES. Pandora, Spotify, and Rdio are really viable only if they can draw in large numbers of new users, and there are few places Americans are more inclined to listen to music than in their cars.
There's even a role model to emulate: SiriusXM, which made itself central to drivers by embedding its service into the dashboards of their cars. That company now has about 27 million paid subscribers, far more than any Internet radio service, even if it's significantly more expensive.  
Many people already stream music in their cars by playing tunes from their smartphones through the car's speakers using a cord or Bluetooth connection. That's not good enough, says Anthony Bay, the chief executive of Rdio. "Sirius took off when you had AM, FM, and a Sirius button," he says. "We're not going to see a lot of pickup, in comparison to radio and CD players, until this happens." 
On Tuesday, Rdio announced a deal with Bosch, one of the companies that makes an interface for connected cars. In Jaguars and Land Rovers, which use Bosch's system, Rdio will be one of a handful of apps in the interface and the only subscription music app. At first glance it gets the company's service close to Bay's stated goal: Jaguar owners who have never used Rdio may find themselves trying out the service. 

But the dashboards of the Internet age are much more crowded than those Sirius began conquering over a decade ago. While Rdio has a preferred spot in the system Bosch has built for Jaguar and Land Rover, the automakers are also planning to partner with Apple through its own connected-car system, Carplay. That will make two parallel systems vying for drivers' attention—and many apps competing within those systems. Things could get confusing. 
This isn't a technological problem as much as a business problem. Carmakers don't want to alienate anyone. There's no incentive to play up one service over another at the risk of losing customers who bring established musical allegiances to the car-purchasing process. This stands in stark contrast to the situation that Sirius exploited, when it bundled the price of satellite subscriptions into the price of the car, then split the proceeds with the companies that sold them to consumers.  
Connected cars will still be good for streaming services, far better than unconnected cars are. They just aren't the deal-sealer Bay and others might hope—there's still going to be a lot of competition for people's attention. The clear leader so far is Pandora, which is already integrated into more than 150 car models, and its radio-esque format makes it a more obvious fit for driving than on-demand services offered by Rdio and Spotify, says industry analyst Mark Mulligan. "Expect 2015 to be mainly a story about Pandora growing its hours of listening in the car," he says. "It's much more of a lean-back experience." 
After more than a decade and a significant boost from the carmakers, Sirius is installed in only around 28 percent of the total vehicles on the road, although it is installed in more than 70 percent of new vehicles. "It's taken us 10 or 12 years to get to that 70 percent level," says David Frear, the chief financial officer at Sirius. "We're not going to mature in the satellite vehicle business for another 10 years." The streaming companies may yet succeed in emulating Sirius's path into the automobile. But it's going to take some time. 
Before it's here, it's on the Bloomberg Terminal.
LEARN MORE