How French Weekly Charlie Hebdo Became a Terrorist Target
By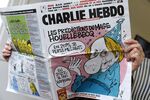 Charlie Hebdo was witty, irreverent, fearless—and a target for terrorism before.
Journalists at the weekly satire newspaper had been placed under police guard after receiving repeated death threats from Muslim fundamentalists. The paper's offices were firebombed in 2011 after it published cartoon depictions of the prophet Mohammed.
Still, Charlie Hebdo ("hebdo" is French shorthand for "weekly") carried on poking fun at Islam. Provocative cartoons were its specialty. True to form, the last tweet on the publication's Twitter feed before the deadly Jan. 7 terror attack was a cartoon mocking Islamic State leader Abu Bakr al-Baghdadi.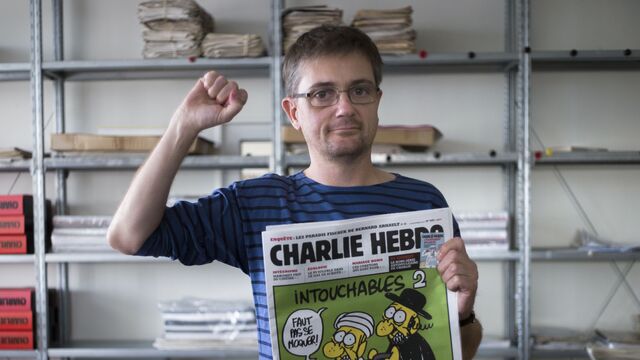 The idea of a weekly newspaper specializing in satirical cartoons might seem strange to American readers, but in France, Charlie Hebdo and its leading cartoonists were household names. They included editor Stéphane Charbonnier, who used the pen name "Charb." He was killed in the attack, along with three other cartoonists, known as Cabu, Tignous, and Wolinski.
Charlie Hebdo grew out of a weekly called Hara Kiri Hebdo founded in 1969 by a group of left-leaning journalists. The newspaper in its current form dates to 1992, when several journalists pooled their money and set up a foundation to run the publication. According to a 2008 story in Le Monde, the foundation was called "Kalashnikov Editions"—by grotesque coincidence, the name of the rifle used in the terror attack.
Charlie Hebdo has been angering Muslims for more than a decade. In 2003 it published an editorial calling Tariq Ramadan, a prominent Muslim academic in Switzerland, "an anti-Semitic propagandist." In 2006, French Muslim leaders unsuccessfully sued to block publication of a Charlie Hebdo edition containing satirical images of Mohammed. French authorities also tried to stop the newspaper from publishing a cartoon that showed Mohammed naked—and when the paper refused, riot police were sent to guard its offices.
Even after the firebombing forced it to move out of its offices for two months, the staff didn't seem overly frightened. "We received threats by e-mail all the time, and phone calls, but we didn't really take them seriously," an unnamed staff member told Le Monde after the attack. Charbonnier and other prominent staff members were offered police protection but didn't always use it, Le Monde said.
Like most newspapers in the 21st century, Charlie Hebdo seemed to consider lack of money as the biggest threat to its existence. According to French press reports, the newspaper had as many as 140,000 regular readers a decade ago, but readership had declined to about 50,000 by last year. Last November, the newspaper made a public appeal for donations, saying it was barely staying afloat.
Before it's here, it's on the Bloomberg Terminal.
LEARN MORE