French Police Identify, Localize Suspects, Liberation Says
Helene Fouquet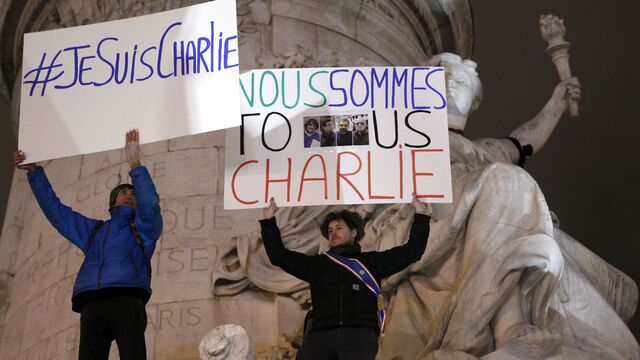 French police have identified and located the three suspects involved in the attacks today at Charlie Hebdo magazine that left 12 people dead and 11 injured, Liberation said, citing police sources.
The newspaper said its earlier report that the suspects had been arrested was denied by the French interior ministry. The Liberation report included the first names, birthdates and details of where they lived.
France was put on the highest terrorist alert after one of its deadliest attacks since World War II. The country deployed thousands of police and soldiers to protect train stations, airports, schools and cultural sites as the hunt intensified for the killers.
The assault today was carried out by two masked men brandishing AK-47 Kalashnikov rifles, with at least one shouting "Allahu Akbar," or "God is great" in Arabic. The third suspect drove the car in which the shooters fled.
The dead included eight journalists, a guest at the weekly, a maintenance man and two policemen. The magazine's most renowned cartoonists -- Cabu, Charb, Tignous and Wolinski -- were among those killed.
Before it's here, it's on the Bloomberg Terminal.
LEARN MORE