Christie Mulling Presidential Run Faces Cowboys Decision
Terrence Dopp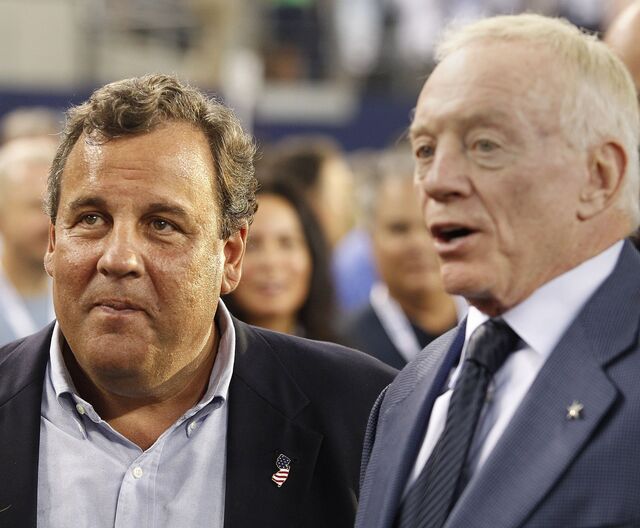 As New Jersey Governor Chris Christie considers entering the 2016 presidential race, first he has to decide whether to attend a football game.
Dallas Cowboys owner Jerry Jones, who paid for the governor's Jan. 4 trip to see the team win in Arlington, Texas, said yesterday that the second-term Republican and his orange sweater are part of the Cowboys "mojo." Christie has said he wants to be on the sidelines Jan. 11 when the team plays the Green Bay Packers at Wisconsin's Lambeau Field.
Christie's attendance at Cowboys games has attracted criticism ranging from jabs over rooting against local teams to a request by a national Democratic group for a review by the New Jersey ethics commission. Jones is a director of a venture that does business with the Port Authority of New York & New Jersey, which is overseen by the governors of the states.
"This goes beyond which team he's rooting for," said state Assemblyman John Wisniewski, a Democrat from Sayreville who co-chairs a panel that has examined Christie's role in a traffic scandal. "It sends a very bad message that the governor of New Jersey can be treated in this fashion by people who do business with the Port Authority."
Travel Plans
Michael Drewniak, a Christie spokesman, said today in an interview that the governor hasn't set plans for the Wisconsin game. He said Christie's office will release his decision this week. Christie said Jan. 5 during an interview on WFAN in New York that he hoped to attend.
New Jersey's 52-year-old governor, a Cowboys fan since childhood and a former U.S. attorney in Newark, accepted a plane ride from Jones to see the game against the Detroit Lions and sat in his luxury box.
The governor's transportation and ticket were "no expense to taxpayers," said Kevin Roberts, a Christie spokesman, though that doesn't include unspecified security costs. Captain Stephen Jones, a state police spokesman, declined to comment on the trip's cost.
At the game, Christie was shown on television hugging Jones and others, clad in an orange sweater he's worn to all five games he's attended this season. The team has won each one. The video became an Internet phenomenon.
"He's part of our mojo," Jones said yesterday on 105.3 The Fan in Dallas. "I want him there all the way. I'll tell you, if he's got enough mojo to pull this thing out, he ought to be looked at as president of the United States."
Legends Contract
Jones is a board member of Legends Hospitality LLC, which won a Port Authority contract in 2013 to develop and manage the observation deck on the 100th to 102nd floors of One World Trade Center.
The 94-year-old agency, controlled by Christie and New York Governor Andrew Cuomo, oversees the New York City area's three major airports, four bridges, two tunnels, marine terminals, a commuter rail and the World Trade Center site.
Christie and Cuomo "called on" the authority board to award the deal to Legends, according to an agency news release in April 2013. The firm was chosen after a "highly competitive procurement process" that took 16 months, Port Authority spokesman Steve Coleman said in an e-mail.
Conduct Code
The Port Authority has been a source of patronage and perks for decades. Its management and operations have come under prosecutors' scrutiny since Christie allies ordered lane closings at the George Washington Bridge in 2013 as political retribution for a mayor. Christie, whose approval ratings slid after the scandal, has denied any involvement.
Wisniewski, co-head of a legislative panel investigating the bridge scandal, said he and counterpart Senator Loretta Weinberg, a Democrat from Teaneck, have discussed whether to investigate the Legends contract.
"This governor preached to local officials as U.S. attorney not to take a ham sandwich and now he's creating a double standard," Wisniewski said.
Game Tickets
The American Democracy Legal Fund, which has ties to Democrat Hillary Clinton, yesterday asked the New Jersey State Ethics Commission to investigate whether Christie violated rules by letting Jones pay for his trip. The commission is reviewing the request, according to an e-mail.
Christie is in compliance, Roberts said. A governor "may accept gifts, favors, services, gratuities, meals, lodging or travel expenses from relatives or personal friends that are paid for with personal funds," under an executive order signed by former Governor James McGreevey.
"Executive-branch rules are set by executive orders," Wisniewski said. "Who sets the executive orders?"
Christie isn't the first governor to face scrutiny over sport tickets.
In 2010, New York Governor David Paterson was fined $62,125 by a state ethics commission for taking World Series tickets from the New York Yankees and then lying about the arrangement.
Honest Government
Accepting valuable gifts from people who do business with government creates the potential for corruption, said Dale Eisman, a spokesman for Common Cause, a Washington nonprofit that lobbies for "open, honest and accountable government."
"We saw it frankly just yesterday in Virginia," said Eisman, referring to the sentencing of former Governor Robert McDonnell to two years in prison for using his office to help a businessman promote a dietary supplement in exchange for gifts.
Christie has called in to sports-radio shows this week to gloat about the Cowboys victory as his office publicized his refusal to apologize for attending.
'Public Eye'
"He likes being in the public eye, and doesn't mind whether it's good or bad as long as you spell his name right," said Diana Owen, author of "Media Messages in American Presidential Politics" and a professor at Georgetown University in Washington. "Sports are a way politicians can connect with people. He's trying to keep himself out there."
Christie said last month he would announce a decision on a presidential run this year. He may make a move at the end of this month, the Washington Post reported yesterday. A possible campaign by former Florida Governor Jeb Bush has sped up the timing, the newspaper reported, citing an unnamed person with knowledge of the situation.
Cheesehead Posting
Wisconsin Governor Scott Walker, who also has his eye on the Republican nomination, poked fun at Christie's embrace of Jones today, posting a picture on Twitter of a Packers fan wearing a foam hat in the shape of a cheese wedge.
"This is the type of owner I'll be looking to hug after a Packers win on Sunday," he wrote. The team, unique in the NFL, is owned by its fans.
In the past, Christie has been able to skirt bad publicity in part because voters see him as a "man of the people," Patrick Murray, director of the Monmouth University polling center, said in an interview. Appearing with Jones again may undermine that image, Murray said.
"This turns it from 'What a lucky guy he is -- I wish I was in his shoes' to whether this is a guy who asked for special favors as a perk of his office," Murray said. "We can be almost guaranteed Scott Walker will be sitting in the stands, probably next to a cheesehead. That's quite a contrast."
Before it's here, it's on the Bloomberg Terminal.
LEARN MORE