politics
2016 Republican Hopefuls Respond to Paris Attack
The deaths of a dozen people draw sober and cautious remarks.
By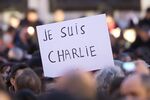 In Republican domestic politics, dissing the French usually draws a chuckle, and assailing the news media prompts standing ovations. Neither of those rules applied, however, following Wednesday's deadly attack on French satire magazine Charlie Hebdo, as the statements of the GOP's 2016 presidential hopefuls illustrated. 
South Carolina Senator Lindsey Graham, in a lengthy statement, said that the U.S. "must use this horrific attack as an opportunity to re-evaluate our own national security posture." Graham said that Obama's stances on detention and interrogation and budget cuts by Congress were making the U.S. vulnerable to similar attacks, while Obama's policies for fighting the Islamic State terror group are "grossly insufficient and leave our homeland increasingly exposed."
Senator Ted Cruz of Texas, a foreign policy hawk and leading critic of Obama, avoided swipes against the U.S. president in a statement on Facebook. Cruz said the U.S. "stands in solidarity with our long-standing NATO ally France in this ongoing battle with radical Islamic terrorism" and called the attack on journalists and satirists in France "an attack on us all." Cruz said that "freedom of the press is at the heart of all free societies."
Senator Marco Rubio of Florida said the killers "don't hate cartoons, they hate freedom" and that the U.S. "must stand unequivocally with the people of France in their time of need and mourning."
Louisiana Governor Bobby Jindal weighed in, asserting that the attack shows that "the war on terror is real and these threats need to be confronted and destroyed for freedom to prosper" and "we must stop at nothing to eliminate these threats." And Rick Santorum, the former Pennsylvania senator, said in a statement that the "brutal, deliberate attack" should serve as "a reminder to the West of the continuing threat to our way of life" by Islamic terrorists.
"Here we go again!" said physician Ben Carson. "When will the world finally awaken to the menacing brutality of this continued behavior?" Carson also called for helping France "through whatever means are necessary" and urged: "Let us also remember that freedom of press is a pivotal concept that the free world must continue to protect."
There was no immediate public reaction from Democrat Hillary Clinton or from several high profile Republicans including Jeb Bush, Chris Christie and Rand Paul. Christie did not mention of the attacks on Twitter, instead using that space to share a joke with Wisconsin Governor Scott Walker about Christie's own recent awkward hug of Dallas Cowboys owner Jerry Jones. Bush was on Twitter to promote his new political action committee but not to discuss the terror attacks. Paul was on Twitter to highlight his legislation to halt Palestinian aid and to urge Kentucky lawmakers to restore voting rights to nonviolent offenders.  
Before it's here, it's on the Bloomberg Terminal.
LEARN MORE