'Je Suis Charlie' Spans Globe as Thousands Rally for Victims
Helene Fouquet and Fabio Benedetti-Valentini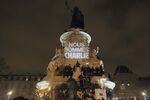 We are all Charlie.
Tens of thousands of people, many holding signs saying "Je suis Charlie," rallied across France and around the world to show support and express grief after the killing of 12 people at the Paris headquarters of satirical weekly Charlie Hebdo yesterday.
Crowds gathered in Paris, Toulouse, Lyon, Lille and Marseille, as well as in Trafalgar Square in London, at Berlin's Brandenburg Gate and in New York.
At the Place de la Republique in central Paris, where more than 10,000 assembled yesterday, placards with the words that mean "I am Charlie" were raised. Others waved their smartphones with an image of a pen on it.
Some held a pen or a candle, or copies of Charlie Hebdo magazine; some chanted "All Together With Charlie." With flashlights, marchers spelled out "NOT AFRAID" in capital letters. As many as 50,000 turned out across France, police said.
"This can help rebirth a spirit of unity," said Olivier Migda, 38, chief financial officer of Gender, a fashion company. "Rather than seeking refuge in nationalism, let's hope that this will create cohesion."
Hours earlier, attackers killed 12 people at the headquarters of the magazine, whose portrayals of the Prophet Muhammad made it a target. Eight journalists, two police officers, a guest and a maintenance man were killed, Paris Prosecutor Francois Molins said. A shooting just south of Paris today that killed a policewoman hasn't been linked to yesterday's massacre, police said.
New York Rally
Hundreds of people, many of them French, descended on New York's Union Square at 7 p.m. local time. They held handmade "Je suis Charlie" signs or displayed the message on their phones. Some raised pens or held the magazine's covers.
"None of us could work today after what happened -- we were constantly checking the news," said Anthony De Jaegere, a 26-year-old sales manager who is originally from France and moved to the city about a year ago.
Those attending the rally were mostly quiet, or speaking to one another in French, until they broke out singing the French national anthem.
"Charlie was a symbol of French expression," said Caroline Meziere, 36, who works in finance and grew up in France. "It's shocking that they killed an entire newspaper over sense of humor."
At a ceremony to swear in 891 recruits about to enter the city's new Police Academy, Mayor Bill de Blasio called for a moment of silence to honor the victims.
'Speak Freely'
"This was an attack on those who speak freely; it was an attack on the news media; it was an attack on freedom of expression," he said. "It was an attack on the values we hold dear and that you're preparing to defend."
About 1.9 million Twitter messages using the hashtag #JeSuisCharlie have been published since the attack, among the most used hashtags in the world. The words were also the home page of the Charlie Hebdo website. The phrase echoed the headline in Le Monde newspaper after the Sept. 11, 2001, terror attacks: "We are all Americans."
Charlie also turned up on EBay Inc.'s online marketplace today. Listings included some of the weekly's most best-known covers, including the current one. Bids were up to 167 euros ($197) at 2 p.m. Paris time. The magazine's 2011 special edition featuring Prophet Muhammed as a "guest editor" was listed with a starting bid of 8,000 euros. On the U.K. site, "Je suis Charlie" T-shirts were available for 9.99 pounds ($15).
French President Francois Hollande called for one day of mourning and for national flags to fly at half-staff for three days.
Minutes' Silence
The Consulate General of France for Hong Kong and Macau observed one minute's silence at midday, as did the French Embassy in Beijing.
Australia's journalists' union invited members to sign a condolence book in the inner Sydney suburb of Redfern at 6 p.m. local time.
Attendees at a separate union event in Melbourne's central Federation Square were encouraged to wear black and "bring your pens and pencils to hold up high," according to the event's Facebook page.
Sad, Shocked
Several hundred people, mainly French, gathered in Trafalgar Square. Flowers, Charlie signs, pens, pencils and a candle were laid out on the ground in a symbol of defiance. One person held a sign with the words, "If God exists he does not kill for a drawing." A violinist playing a melancholic melody was heard in the background.
"I'm just sad, I'm just shocked, I just don't understand," said Marie Humbert, a 25-year-old graphic designer from Paris who held a Charlie placard. "I never expected to feel as French as I am now."
In Berlin, more than 500 people, most of them French expatriates, stood in front of the French Embassy next to the iconic Brandenburg Gate. Many stepped forward to lay flowers and lighted candles next to the embassy's main entrance. A black sign left there read the Charlie message in bold white letters.
Following a meeting with Hollande at the Elysee Palace, the country's leading religious leaders spoke out against the attack.
"We feel today the need to do all that is possible within our communities or religious families to mobilize the believers to feel a sense of living together as well as prevention because God is our witness that we are seeing a degradation of the situation in our society," said Dalil Boubakeur, rector of the Paris Mosque and head of the French Council of Muslim Faith.
"We are all French," Italian Prime Minister Matteo Renzi said after meeting with the French Ambassador in Rome.
Before it's here, it's on the Bloomberg Terminal.
LEARN MORE