What Smart Lightbulbs Do Best: Hide Your Other, Uglier Gadgets
How many ugly gadgets can fit in a lightbulb? More than you'd think
By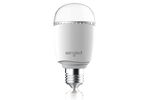 The annual Consumer Electronics Show is always a time to show off new versions of old things—think speakers or security cameras. This year one of the more interesting trends has been a move to marry the functions of these gadgets with other, more indispensable objects, namely lightbulbs.
On Monday, Sony introduced the Symphonic Light speaker, a prototype for a lamp that emanates music in all directions. The company unveiled several versions: ceiling lamps, floor lamps, and a small bedside-table version. In each, a cylindrical piece of glass enclosed what looked like a small bulb, with the base of the lamp containing the guts of the speaker. With a few taps on a smartphone, music filled the room—sometimes from one lamp, sometimes from several. Here's the cool part: Absent visible speakers, the sounds didn't seem like they were coming from anywhere. There was just music in the room.

As is typical of a prototype shown at CES, there was little detail about whether or when the concept would become a real product. A Sony representative couldn't say when the lamps would go on sale or whether they would look anything like the items on display. The company does plan to begin selling a musical bulb that can be screwed into a normal lamp at some point this year, but it couldn't say how much the bulb would cost.
Sengled, a Chinese lighting company, is also showing off several bulbs that do more than light up a room. The company's Boost bulb, which will cost $50, doubles as a Wi-Fi extender, increasing the power of a Wi-Fi signal in areas of the house that might not be served well by the primary router. (It already sells lightbulbs with speakers in them, for $170.) The company is also displaying a suite of products called Snap, bulbs with a built-in security camera, microphone, and speaker, as well as motion detectors and facial recognition, that can be installed inside or out.
Taken together, these souped-up lightbulbs start to answer the question that has dogged the makers of previous iterations of smart lights. It's hard to argue that turning on the lights via smartphone is any easier than, say, just flipping a switch. Any additional benefits—for instance, color-syncing your lighting to a B-movie—have left a lot to be desired. But the bulbs from Sony and Sengled, and the dozens that will probably follow, begin to get at something consumers really might want. The consumer electronics industry has traditionally been based on getting people to buy more gadgets. These smart bulbs might give them the chance to buy fewer.
Before it's here, it's on the Bloomberg Terminal.
LEARN MORE