Verizon Warms to AOL as Time Warner Deal Memory Fades: Real M&A
Brooke Sutherland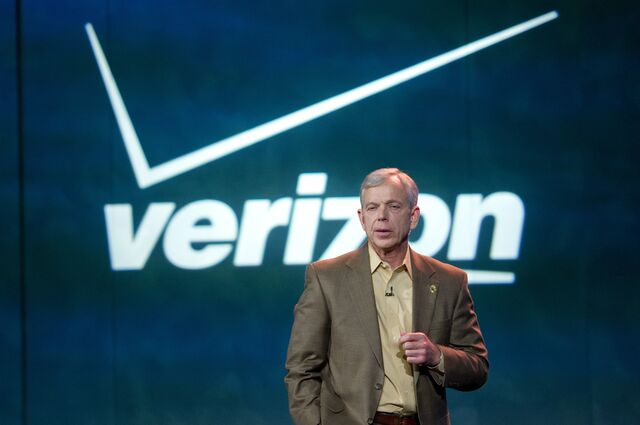 More than a decade after AOL Inc.'s failed merger with Time Warner, Verizon Communications Inc. shareholders like the idea of the wireless provider getting together with the company that popularized "You've got mail."
Verizon rose more than 1 percent yesterday after people familiar with the matter said the $195 billion wireless carrier was exploring an acquisition or joint venture with AOL to help expand its mobile-video offerings. It was one of the only gainers among telecommunications stocks on the Standard & Poor's 500 Index as the benchmark fell 0.9 percent. AOL rose 3.4 percent.
AOL offers advertising tools that match media buyers with publishers through a digital algorithm. Verizon could pair that technology with mobile content, giving it a new revenue stream and a way to differentiate itself from competitors. While Verizon Chief Executive Officer Lowell McAdam said he's more interested in partnerships, the New York-based provider could easily absorb a potential $4 billion price tag for AOL if it decided the automated ad-buying tools were valuable enough, according to Cowen Group Inc. That would represent a 15 percent premium to AOL's market value on Monday.
"Every stock has to have a catalyst in terms of what fundamentally is going to happen next that makes you excited about owning that stock. For Verizon and Verizon investors, this is it," Colby Synesael, an analyst at Cowen in New York, said in a phone interview. Verizon needs to "put themselves in a position where they do have a differentiated solution" and adding advertising technology would help do that.
Deal Flop
AOL agreed to merge with Time Warner 15 years ago in what is still one of the world's biggest deals. When the transaction was announced, the combined company was valued at $350 billion. Two years later, it had dropped by about two-thirds.
The merger ended in a spinoff in 2009 and AOL has since shifted focus away from its floundering Internet dial-up business and toward more promising digital advertising technologies.
AOL has "real estate in the online advertising world and that real estate is in demand," said Art Barry, a fund manager at Boston-based Loomis Sayles & Co., which oversees about $224 billion including AOL shares. "It's the biggest thing around" to satisfy Verizon's interest in mobile content and marketing.
Verizon Talks
CEO McAdam said Verizon isn't having "significant" acquisition talks and is more interested in partnering with media companies than buying them. Verizon is primarily interested in AOL's programmatic advertising technology, two of the people familiar with the matter said, asking not to be identified because the information is private. The company also has held talks with several of AOL's peers about how to bolster its online content, mobile video and advertising businesses, one person said.
AOL's other assets include media sites such as the Huffington Post and TechCrunch and a remaining legacy Internet subscriber base. Andrew McNellis of Evercore ISI values the company at about $48 a share, based on the sum of its parts. There's an argument for keeping the advertising technology paired with the media products since those provide an immediate engaged audience, McNellis said in a phone interview.
'Tipping Point'
While Verizon may prefer to be a joint-venture partner, AOL does make sense as part of a larger organization and growing demand for its advertising tools may entice the likes of Google Inc. and Amazon.com Inc., said James Cakmak, an analyst at Monness, Crespi, Hardt & Co.
"I've been positive on AOL for some time and now we're at that tipping point toward what we estimate is accelerating revenue and profits," Cakmak said in a phone interview. "Anybody with sizable cash flow on the balance sheet that's involved in an aspect of the screen, whether it's TV, mobile or desktop, would be interested."
Barry of Loomis Sayles said he'd prefer a sale to a joint venture because it would lock in potential gains faster.
"If the name wasn't AOL, I think it already would have been acquired. There's such a negative connotation to those three letters" after the Time Warner deal, Barry said. "This stock has given us a lot of headaches at certain points in time and to see a clean ending after holding it for five years, and a profitable ending, would give us a lot of gratification."
Before it's here, it's on the Bloomberg Terminal.
LEARN MORE